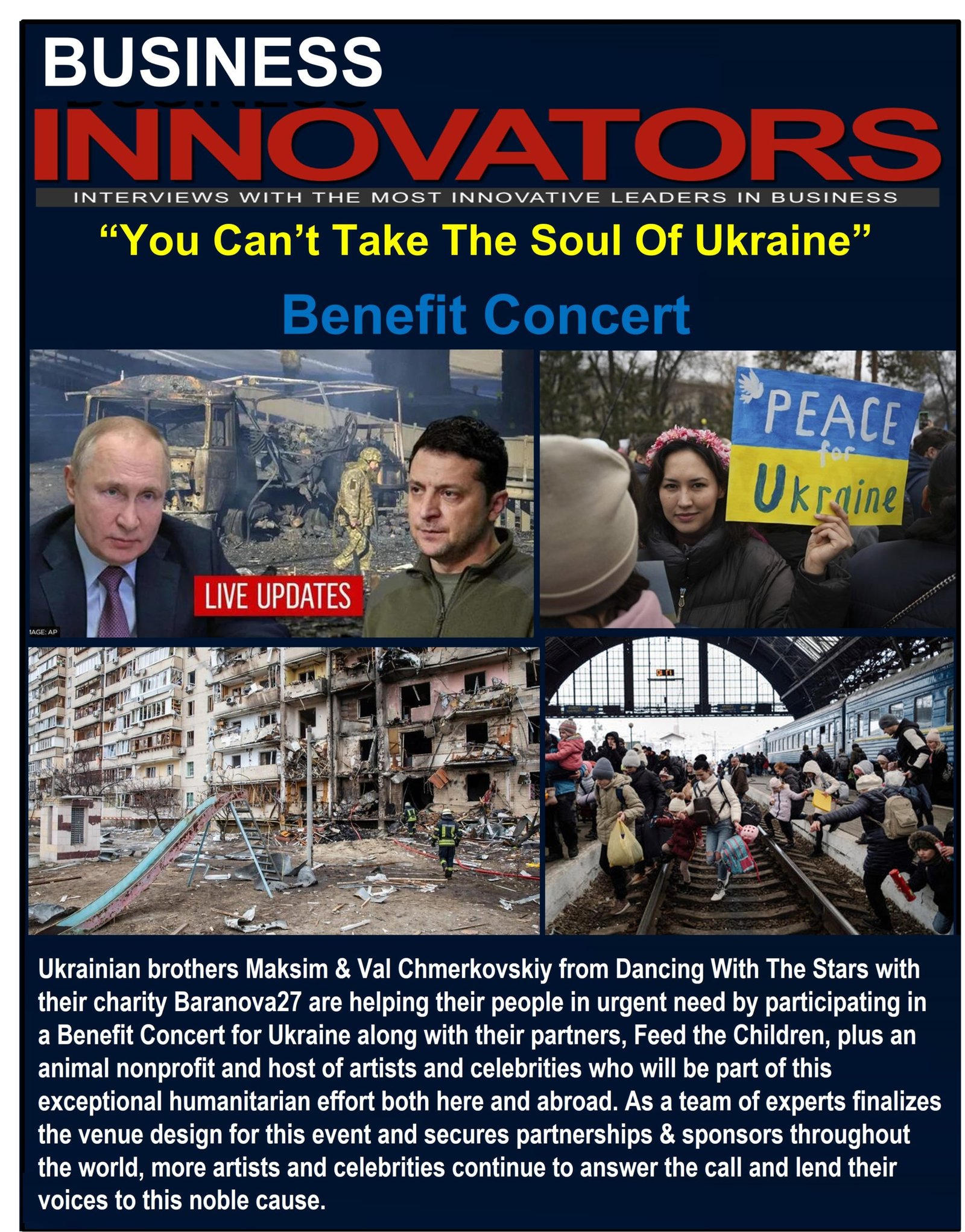 Ukrainian brothers Maksim & Val Chmerkovskiy from Dancing With The Stars with their charity Baranova27 are helping their people in urgent need by participating in a Benefit Concert for Ukraine along with their partners, Feed the Children, plus an animal nonprofit and host of artists and celebrities who will be part of this exceptional humanitarian effort both here and abroad. As a team of experts finalizes the venue design for this event and secures partnerships & sponsors throughout the world, more artists and celebrities continue to answer the call and lend their voices to this noble cause.
Former bandmates Jeff Levine and James Montgomery have come together to write an anthem describing the remarkable resilience of the people of Ukraine entitled "The Soul of Ukraine," the song is an inspiring composition complete with a Ukrainian choir that underscores the unity and resolve of the people of that war-torn country in the face of what was supposed to be overwhelming odds. They believe that a song of this magnitude, sung by artists from all over the world and especially by citizens of the country under violent siege, could become an anthem for those looking for inspiration and the strength to carry on.
Legendary Hall of Fame artists and the original Soul Man Sam Moore, Simon Kirke, Michelle Phillips, James Montgomery, The Lumineers, Southside Johnny, Alexandre Zazarashvili winner of "The Voice" Ukraine, The LA School Of Rock, and Jim Belushi, along with iconic personalities Henry Winkler, Cindy Crawford, Jayni and Chevy Chase, Katharine Ross, Paul Michael Glaser, Gabriel Byrne also Dickie Smothers, have already pledged their support to this event. Jeff Levine, our Music Director, has already assembled an All-Star band featuring some of music's premiere artists. Maksim and Val, with their father Sasha, have come together to start Baranova27, a 501(c)(3) dedicated to building housing and sending food, clothing, medical supplies, and other items back to the people in need in Ukraine. Feed the Children, one of the largest non-profit organizations in America will spearhead the food and aid distribution to Ukrainian refugees; Sam Moore and Simon Kirke are inviting other artists to join the cause. Let's all unite to support children and starving animals affected by this terrible disaster. Stay tuned for more coming…
"You Can't Take The Soul Of Ukraine Benefit Concert" is scheduled for the weekend of May 20th at The Legendary Saban Theatre "Where Music Meets The Soul" located at 8440 Wilshire Blvd, Beverly Hills, CA 90211. 
Imagine … an event production following the anniversary of the war highlighted by an incredible benefit concert to be televised/streamed, VIP sponsors "Soundcheck" party the day prior, food drops across multiple cities & states throughout the week supporting its community partners, and other strategic efforts in development. Immediately upon securing the concert venues for this unprecedented effort, we will unveil sponsorship packages and engage corporate and philanthropic partners network to aid this cause further while simultaneously launching media promotions, including a media blast campaign developed with the celebrities and sponsors to date. Along with their team comprised of top producers, artists, marketing, and fundraising professionals – who have worked across countless concerts and TV events, Broadway, Olympics, Super Bowl, Grammys, Animal Rights, and the historic One America Presidential Appeal raising over $50 million … they invite everyone to join them.
Meet The Team Of Experts Involved:
Jeff Barry: Iconic award-winning songwriter and record producer. Inducted into The Rock'n'Roll and Songwriter Hall of Fame and was awarded Record of the Year three times. In his illustrious career, he discovered and produced Neil Diamond. Barry served as the National Academy of Songwriters president during the nineties and received their 1998 Lifetime Achievement Award. In 2000, Broadcast Music, Inc. (BMI) named eight Barry tunes among the most performed songs of the century: "Doo-Wah-Diddy," "Then He Kissed Me," "Be My Baby," "Da Doo Ron Ron," "Hanky Panky," "Leader Of The Pack," "Sugar, Sugar," and "I Honestly Love You." He has produced and written songs for some of the biggest names in music history, such as Neil Diamond, The Monkees, The Beach Boys, Wilson Pickett, Tina Turner, Olivia Newton-John, The Supremes, The Chiffons, and The Ronettes.
Paul Bogaev: Multiple award-winning music director, arranger, conductor, and composer. He received his first Grammy Award for Elton John and Tim Rice's Aida, for which he produced, orchestrated, and conducted the Tony Award-winning score. He was also music director on Broadway for Tarzan, Bombay Dreams (receiving a Tony nomination for best orchestration), Sunset Boulevard, Aspects Of Love, Chess, Les Misérables, Starlight Express, Cats and The Music Of Andrew Lloyd Webber with Michael Crawford and Sarah Brightman. Paul also served as music director of the ABC-TV film musicals Rodgers & Hammerstein's Cinderella, Annie (earning an Emmy Award) and South Pacific. He has worked with such stars as Sting, Phil Collins, Elton John, U2, ABBA, A. R. Rahman, Barbra Streisand, Whitney Houston, Beyonce Knowles, Hugh Jackman, Glenn Close, Toni Braxton, Kristin Chenoweth, Eddie Murphy, Richard Gere, Queen Latifah, Catherine Zeta-Jones, Marion Cotillard, Nicole Kidman, Keith Urban, Renée Zellweger, Judi Dench, Liam Neeson, Harry Connick Jr., and Sophia Loren.
John Callahan: The Logistics Group, Inc's owner, "Runs the Commission On Presidential Debates." Long time tour manager for Tony Bennett and the current tour manager of Andrea Bocelli. He also managed Cyndi Lauper, Beach Boys, and Jennifer Hudson.
Andrea Eastman: While working for Paramount Pictures, Cast The Godfather and Love Story. After Paramount became Senior VP at International Creative Management ( ICM ), representing Sylvester Stallone, Barbra Streisand, Richard Gere, Billy Crystal, Dustin Hoffman, Henry Winkler, Stockard Channing, Christopher Plummer, Gabriel Byrne, Katie Couric, Katharine Ross, Ali MacGraw, Tony Danza, Burt Reynolds, and Chevy Chase, to name a few she has received many awards for horse and animal rescue; her most recent award was in 2020, honored along with Willie Nelson by Equine Advocates.
Pieter Zeeff: Event Producer with 25 years of experience. Has produced many charitable fundraising TV shows, including the "One America" event, which included all 5 former Presidents of the United States and raised over 45 million dollars. Co-created and produced "Guitar Legends For Heroes," an annual televised show that raises awareness and funds for military non-profits. He has worked with many artists worldwide, such as Sam Moore, Lady Gaga, Trace Adkins, Alabama, Blues Traveler, and Billy Gibbons. Worked on various military concerts with such stars as Tim McGraw, Rascal Flatts, Zack Brown Band, Josh Turner, Kid Rock, Hootie and the Blowfish, Sheryl Crow, and The Beach Boys.
Eilene Cohhn: specializes in producing successful celebrity events for nonprofit organizations, including schools, animal charity organizations, and holistic medical causes.  Coordinate all aspects of major events involving world-renowned artists, actors, and groups, which have included working with Paul and Linda McCartney, Ringo Starr, Sarah McLaughlin, Chrissie Hynde, the B52s, Kevin Nealon, Gary Shandling, Alicia Silverstone, Kristine Bell, Moby, Willie Nelson, Rod Stewart, Chuck Negron from Three Dog Night, Jane Goodall and many others. The events raised millions for charity at venues from Radio City Music Hall, NY, to Paramount Pictures in Hollywood, CA, leading to international press coverage, donor satisfaction, and long-lasting financial success and goodwill. PETA's Director of Special Events, on Paul and Linda McCartney's 1992 "The New World Tour,"  PETA's Inaugural Ball hosted by Kim Basinger & Alec Baldwin amongst other celebrities, PETA's Millennium Gala and Tribute to Linda McCartney, Paramount Pictures, sponsored by Paul McCartney, Bill Maher, Woody Harrelson, Jamie  Lee Curtis,  Ellen De Generes,  Richard Pryor, Celebrities, luminaries from the entertainment industry, corporate leaders, and politicians, Humane USA "Savoir Vivre" Gala launch at the "W' Hotel with Chef Michel Nischan, Celebrity Chefs, Hosted by Montel Williams, Celebs, & politicians, Executive Director for Humane USA, produced the VIP reception with Ringo Starr in Roxy Suite, Radio City, NY, followed by Ringo's ALL Starr Band, Forbes, and Grey Goose Award for the Ringo Event for Humane USA, In Defense of Animals Annual Guardian Awards Star-Studded Benefit Concert at Historic Paramount Studios for Katrina Disaster hosted by Paula Abdul and an All-Star Band.

Tess Cacciatore: A Multimedia/Interactive Creator, Director, and Executive Producer with 25+ years in the entertainment/technology and philanthropic arenas. TEDx SXSW Digital Hollywood speaker/facilitator/panelist. Tess is the Founder and CEO of GWEN Global LLC, a for-profit company dedicated to social impact & positive change in the entertainment arena, which also encompasses Global Women's Empowerment Network (a 501c3). Tess is a best-selling author of "Homeless to the White House" and an award-winning producer/filmmaker/songwriter, as well as a Keynote Speaker and Social entrepreneur who has dedicated her life to advocating for "Transforming lives through the power of storytelling!" In 2003, Tess was awarded the Fete d' Excellence within the Sub-Commission for Human Rights at the United Nations (Geneva, Switzerland) for her work in edu-tainment. Throughout the years, Tess has been honored with multiple awards. In 2011, she won Mobile Excellence Award for the GWEN Alert, a FREE downloadable safety app with video-cloud private storage to protect those in need. Tess has an original, scripted series called "The Wright Turn" as co-creator, co-writer, music supervisor, and Director. THE SERIES IS NOW STREAMING ON TUBI, and more streaming platforms soon. This multi-cultural cast reflects true stories from the Gwen community in a scripted manner so that we can continue to put forth healing through storytelling, "trauma to transformation."

Maureen Hamill: has created shows and events for such clients as Pepsi Cola, Dun & Bradstreet, United Technologies, and Anheuser Busch. Stadium Presentations: for Special Olympics and Equestrian World Cup Opening Ceremonies in Raymond James Stadium. The non-profit organization includes USO, The American Red Cross, and The American Cancer Society. It also has provided music and entertainment for the Equestrian Show Jumping events all over the country since 1983.
Jeff Levine: Music Director for more than three decades, Jeff has been on a vast musical journey pressing the keys for some of the greatest figures in music, including performing "The Ray Charles Tribute with Joe Cocker "at the Grammy's. We've heard his passionate & soulful artistry onstage and on some of the most prolific recordings released to date. He has supported the likes of The Chambers Brothers, Michael McDonald, John Fogerty, Darlene Love, Buddy Miles, Jeff Golub, Peter Wolf, Hall & Oates, and the legendary Joe Cocker, to name a few.
James Montgomery: International Blues Musician, filmmaker, songwriter, and producer. His band of 50-plus years has toured with Aerosmith, Bruce Springsteen, The Allman Brothers, B.B. King, Buddy Guy, Steve Miller, and countless others. He has been a touring member of The Blues Brothers with Dan Aykroyd and Jim Belushi, Commander Cody and the Lost Planet Airmen, and a member of The Johnny Winter Band for 6 years. His stint with Johnny Winter earned him a Grammy Nomination, and he was nominated for a Blues Music Award by The Blues Foundation in Memphis. He has produced and been a music director and participated in several charity events that have featured Huey Lewis, Steven Tyler, Jim Belushi, Trombone Shorty, Billy Squier, members of Aerosmith, Skunk Baxter, James Cotton, and many more. He currently has two documentaries screening around the world which he co-produced; one, Bonnie Blue – James Cotton's Life in the Blues which was one of 5 finalists in The Library of Congress Ken Burns Prize for Film and received the Founders Award at The International Black Film Festival, and two, America You Kill Me, the story of LGBTQ warrior Jeffrey Montgomery that received The Spirit of Michigan Award at the FREEP Detroit Film Festival and the Excellence Award at the LGBTQ Unbordered International Film Festival. He was also featured in the film "Delta Rising" about the story of Delta Blues in Mississippi, along with Morgan Freeman and Willie Nelson.
Dr. Tom Chesser: Rise Up Media & Marketing will lend a hand by providing "Online News Sources & Publishers" with Media worthy stories, content, and interviews from subject matter experts in various fields of expertise to 350+ affiliate partners, including NBC, ABC, CBS, Fox & premium (TV, Radio Stations, Newspapers, Financial, and Trade Periodicals) around the world. In addition, he is the director of operations and PR for Traverse TV, an Over-The-Top (OTT) Streaming Platform with a global content delivery network creating live linear broadcasts & TV shows to over 196 countries, including CBS channel 55.11 in Orlando, Florida. The Traverse platform is designed for content creators to reach large global audiences on popular platforms, whether on smartphones or T.V.; they provide a comprehensive all-in-one technology platform that enables you to start, maintain, and monetize independent Internet T.V. channels on networks distributed across all popular platforms. Combined with their web, mobile, and smart T.V. apps, their state-of-the-art software platform allows everyday video creators to quickly transform their content into full-scale internet T.V. and video-on-demand content to reach millions of potential viewers. Traverse Television Network gives a production team complete video content control. It can organize content into Categories, Create and Schedule Live Linear Playlists, Stream Live Broadcasts, and Restream to Social Media sites while providing security for content and video streams. Content and streams are delivered to several edge networks to maximize the viewer's experience. They are quickly expanding reach to millions of potential viewers with access to the likes of Roku, Apple TV, Fire T.V., and mobile apps with Alpha sync. Traverse can sync a video library seamlessly across all apps, reducing the need for constant uploading across multiple sites.
Trey Duplechin and Denise Millett-Burkhardt of Traverse TV have pledged $100,000 worth of air time on the Traverse TV network, which reaches millions of people across the globe with its diverse and empowering programming, giving "The You Can't Take The Soul Of Ukraine Benefit Concert" additional exposure.