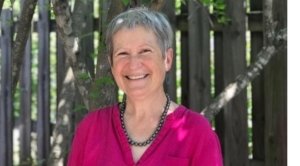 Brigitte Elisabeth Keane is an internationally renowned healer, speaker, author, theologian, educator, consultant, and creative visionary behind The Laughter Liberator.
Her chapter "The Art of Conscious Connection: How to Open Doors Through the Power of Laughter" is featured in the International Best-Selling book "The Law of Brand Attraction," which is an essential guide to the most successful brand attraction strategies that real business owners are using to build their dream business from home.
"Each of the strategies shared is easy to learn, fast to implement and will enable anyone to build a brand that totally resonates with his/her dream customers, first time every time," said Editor Sammy Blindell, founder of the Brand Builders Club.
Brigitte Elisabeth is a creative and inspiring joy partner, who provides her clients with creative and nurturing solutions that help them to reconnect with themselves to feel joy-full and happier. She releases the laughter that exists in their soul.
With more than 20 years of experience traveling the world as a laughter professional, she is passionate about sharing the sacred healing power of laughter.
Inspired by the life-changing experiences of her own life, Brigitte Elisabeth invites others who are imprisoned by the grind of their daily life to play and experience the liberation of The Laughter Lifestyle.
" I am on a mission to improve the self-esteem, self-confidence, and happiness of people all around the world and I believe that by supporting each other, the world can become a win-win place," she said.
Brigitte Elisabeth reminds everyone: "You are perfect the way you are. You are unique. The world needs you. Remember that 'your' laughter is your superpower!"
Brigitte Elisabeth Keane is the founder of the Laughter Lounge Global Facebook Group
https://www.facebook.com/groups/2668163663508819/
About the Law of Brand Attraction
The Law of Brand Attraction features several stars from The Secret, plus 22 savvy entrepreneurs from The Brand Builders Club, this powerful book shares their current best thinking on how you too can create a highly personalized brand that creates a ripple effect on a Global and social scale.
Contributors include Brigitte Elisabeth Keane, Bob Doyle (The Secret), Marie Diamond (The Secret), Sammy Blindell (Founder of The Brand Builders Club), Joké Hoetmer, Jennifer Louise, Jean Macdonald, Nikie Piper, Joanna Howes, Loubna Zarrou, Lara Lauder, Pete Cohen, Gayle Edwards, Amanda Frolich, Anne Hayes, Wilma van Dartel, Ruth Driscoll, Caroline Purvey, Kerry Bartley, Ellen Loopstra, Martin Ramsden, Alice Law, Carole Fossey, Vicki Ibaugh, and Sarah Cox.