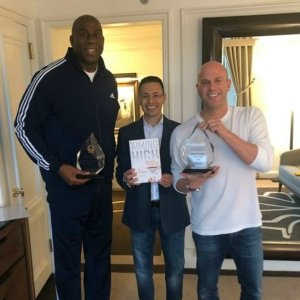 As part of the ongoing recognition for his contributions to current literature, bestselling author Darren Prince recently received an award for his latest book,
Aiming High.
On November 15, 2018, at the Ritz Carlton Hotel in New York City, Barak Granot, president of Metrix Promotions, presented the awards on behalf of the Best-Selling Authors Association to Darren Prince and Magic Johnson, who wrote the foreword for the book.
Aiming High, a story of courage and faith, reached the #1 Bestseller lists in the United States, Canada, Australia and the UK. The author was also recognized at an event later that day held at the Pomona Restaurant, where Jason Binn of DuJour Media recognized Prince's success with his book. Magic Johnson and Barak Granot also attended the celebration.
Darren Prince "hit rock bottom at the top" when he became addicted to opiates while representing such superstars as Magic Johnson, Muhammad Ali, Joe Montana, Chevy Chase, Dennis Rodman, Larry Bird, Hulk Hogan and "Smokin' Joe" Frazier. Unfortunately, his success did not insulate him from the devastating effects of drug dependency. "Until I examined the reasons for my problems and addressed them directly, there was no recovery from addiction," Prince noted.