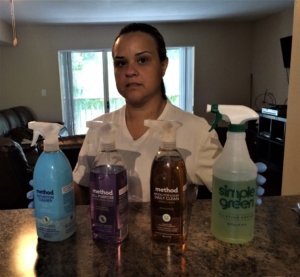 Savassi
Cleaning Services LLC, a trusted name for home and business cleaning services in Boca Raton, FL, for more than three years, has announced that they will now be serving homeowners and business in the Greater Fort Lauderdale Area.

Savassi

Cleaning Services LLC is located at 22545 SW 66th Avenue suite# 206 , Boca Raton, FL.
Savassi Cleaning has built its reputation on high quality service at a reasonable cost, whether residential maid service, commercial and office cleaning, or construction/industrial cleanup. The company is insured and bonded, and relies on its uniformed crews to establish an atmosphere of competence and trust, whether cleaning is a one-time service or performed on a continuing, regularly scheduled basis. In addition, Savassi uses environmentally-friendly and non-toxic green products and its own equipment to complete every job.
High Quality — Reasonable Cost
No job is too small, or too large, for this family-owned business that boasts 100 percent customer satisfaction after more than three years in business. Services include window, office cleaning Fort Lauderdale, carpet and upholstery cleaning by customer request, deep cleaning services that include moving furniture and complete attention to ceiling, walls and floors. Savassi takes great pride in the ability to achieve sparkling surfaces, leaving the properties they clean not only looking and smelling fresh, but also germ-free and sanitized. Kitchens and baths are sterilized and returned to sparkling and "like new" condition.
The company works hard to achieve "big results" in the shortest time possible, in order to keep costs low. Free estimates are based on an on-site assessment. No contract is required for ongoing services, and schedules can be adjusted to meet client needs. Whenever possible, Savassi sends the same two-or-three-person team to each client for every business, and continuing service can be scheduled on a daily, weekly, bi-weekly or monthly basis.
In addition to single-family residential cleaning, Savassi will work with local businesses, banks, day-care centers, schools, apartments and restaurants. The company also will schedule move-in/move-out cleaning, final construction "make ready" services, cleaning for real estate agents prior to a public open house, and pre- and post-event cleaning if desired.
Individualized Services
The extent and details of cleaning services are determined on a case-by-case basis. Residential services may include emptying trash, washing dishes, replacing towels, making beds and changing linens; the cleaning team always moves and replaces small appliances in order to thoroughly clean kitchen countertops. Bathroom cleaning includes disinfecting and polishing all surfaces, including vanities, showers and tubs, fixtures and faucets and flooring. Businesses are assured that the professional cleaning team will not disturb or destroy any documents or business equipment.
Savassi Cleaning has been reliably providing janitorial services to major offices, restaurants, supermarkets, medical offices, real estate companies and several other types of facilities in South Florida since 2015. If you would like to get a no cost/ no obligation estimate for your office or home, you can visit us at www.officecleaningfortlauderdale.com
###
Location Info:
Savassi Cleaning Services
22545 SW 66th Avenue, Boca Raton, FL 33428
5614103679