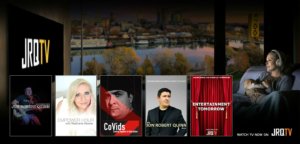 JRQTV is an Indie Streaming Television Network founded in Sacramento, California. The entire premise of JRQTV is to give small business owners, filmmakers, entertainers and entrepreneurs a voice and an audience from peers in the small business community.
CoVids: Connecting People in Quarantine interviews small business owners in quarantine to talk about how they are adapting to the shift in the economy and businesses shutdown.
Entertainment Tomorrow: Showcasing the Stars of Tomorrow interviews the stars of today and tomorrow talking about current and past projects and what they are working on. We also have talk shows, real estate shows, comedy, entertainment, short movies and concerts. Also, please reference the website JRQTV.com and write anything you find relevant.
About Jon Robert Quinn
Jon Robert Quinn is the creator of the indie TV network JRQTV. Building JRQTV, Jon Robert Quinn is hands-on by writing, creating, filming, and producing quality and entertaining content for viewers across the globe. He is also a 4x Best-Selling Author for The Cold Call King series, an accomplished recording artist, an Award-Winning talk show host, music composer and producer.
To learn more, visit: http://www.JRQTV.com. Call (916) 289-3710.
E-mail: jonrobertquinn@hotmail.com.
Or, connect on social media at: http://www.facebook.com/jonrobertquinn