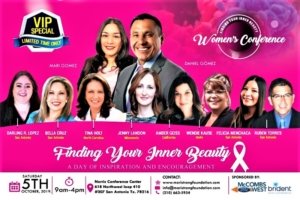 In September of 2017, Mari met the biggest challenge of her life
when she was diagnosed with breast cancer after a routine check-up. This season of her life drew her closer to her God, where she learned to draw her strength from Him. She did experience doubt and fear, but she refused to be defined by her circumstances. She directed her energy towards creating the destiny she desired, and that makes her UNSTOPPABLE!!! She is becoming a miracle in the making and grateful to her God for the healing He gifted her.
Mari is now using her powerful testimony to inspire new life and hope into the women devastated and crippled by breast cancer. Mari's story and words build new visions of possibilities and give hope where there once was not any. Her life is dedicated to lifting women up and letting them know they are "Overcomers." She helps them "Find Their Inner Beauty" and breathes new courage into their hearts through the support they receive from her nonprofit, The Mari Strong Foundation.
The Mari Strong Foundation is excited to bring the "Finding Your Inner Beauty Women's Conference" to San Antonio, Texas in October for breast cancer awareness month.
This event will bring encouragement and empowerment to all women! It is going to be an impactful day of inspiration and new beginnings! Speakers from all over the country will be sharing their heartfelt messages of hope. Don't miss this memorable event. Get your tickets now! To reserve your seats, go to https://www.eventbrite.com/e/finding-your-inner-beauty-womens-conference-tickets-57848557593?fbclid=IwAR3QzKFu9vAmw-VmfnBt2rMJ6WVgNgwfnbd7UxD3cJuJbRXmZO5XlTEeu7k.
If you are a woman needing encouragement, a sense of belonging, and inner healing, we would love to have you attend.
Sat, October 5, 2019, from 9:00 AM – 4:00 PM CDT at the Norris Conference Centers located at 618 Northwest Loop 410 Suite #207 in San Antonio, TX 78216.
Introducing the Speakers For "Finding Your Inner Beauty Women's Conference"
Darling Romo Lopez – "Avoiding the Lure of Isolation" Lopez is the Founder and President of The Pink Ring Club, a 501 (c)(3) organization dedicated to establishing a sisterhood of women whose purpose is to strengthen, encourage, network, and build each other up; iron sharpens iron. She also serves as the Local Contact Agent with the Alamo Area Council of Governments, and the Area Agency on Aging connecting older residents and their caregivers with resources and services in their communities, allowing them to age in place.
Bella Cruz – Bella's passion is to develop, inspire, and motivate individuals to meet their highest potential! Cruz is President of Bella Cruz Consulting and Training, an award-winning leadership consultant, an international author, keynote speaker, John Maxwell team member, and has a master's degree. She has co-authored two books used nationally by healthcare professionals to help improve communication with patients.
Wendie Kause – The Founder of Kause Success Management. She inspires passionate transformation leaders and entrepreneurs to gain knowledge, clarity and confidence to start or grow their business or improve leadership and sales skills by turning fear into curiosity and dreams into reality through tough love coaching, training and motivational speaking which result in increased confidence, business strategy, profitability and company culture and overall happiness.
Felicia Menchaca – An international speaker for her Health company. She is a certified personal trainer and sports nutritionist. A true health foundation Ambassador that works with the children hunger fund. Menchaca also has a Podcast called The Healthy Heroes Show, where she guides women and couples to live their best life.
Amber Geiss – An Amazon bestselling author of Farewell My Loves and is currently launching her new book Stop Hiding & Start Thriving. She is in a mission to help others Unveil their masks and live their authentically purpose-driven lives. She is also a breast cancer survivor diagnosed at 31 and celebrating this year her 10th cancer-free anniversary!!!
Jenny Landon – Discovering Beauty and Purpose through Spiritual Healing. Jenny speaks from the heart as she candidly shares about the heartache she experienced after losing her dad to suicide. She will move the audience as she describes her journey of losing her connection to God and how rediscovering it has empowered her to live her purpose and recognize the beauty within herself as well as the world around her.
Tina Holt – Certified Leadership and Life Coach & Motivational Speaker, 2-time breast cancer conqueror and mother of 3 adult sons, all of which have served in different military branches serving our incredible country. Holt is a 26-year Real Estate Veteran.
Ruben Torres – A highly sought after motivational and inspirational speaker, teacher, leader, minister and a man after God's own heart who travels extensively bringing a powerful message of hope, inspiration, encouragement, and salvation to very diverse audiences all over the world. He is also a life coach and a personal development coach.
For more information go to www.maristrongfoundation.com