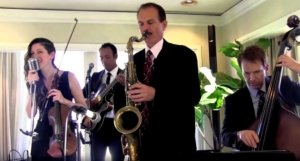 London West Hollywood (The Boxwood) and Grammy award-winning musician Rick Rossi, have teamed up to create an event that you won't want to miss. Beginning on Sunday, November 18th, London West Hollywood will be hosting a Sunday Jazz Brunch.
Brunch will be served every Sunday from 11 am to 5 pm with live entertainment provided by Rick Rossi and the Los Angeles Jazz Band from 11:30pm to 2:30 pm.
After having two successful summers of Jazz on the Rooftop, The London has decided to partner with Rick and his Los Angeles Jazz Band to perform in the Boxwood Restaurant into the fall this year.
Rick Rossi is a Grammy award winner who performs with world class musicians and knows how entertain a crowd. His distinctive style and versatility have kept him in high demand for live events and studio work. He has composed and arranged music for film and television and he is also the owner and manager of Rossi Music Entertainment Agency in LA.
While Rick loves all music he says, "There is a special place in my heart for jazz, it is my passion and I hope to bring more of it to the people of Los Angeles."
Rick's Los Angeles Jazz Band features some of the finest jazz musicians on the West Coast, whose individual credits are far too numerous to list.
Collectively, they have been on literally hundreds of popular recordings and they have performed both live and in the studio with such luminaries as, Pink, James Ingram, Josh Groban, Whitney Houston, Madonna, Brian Setzer Orchestra and many more pop and jazz icons.
Come to enjoy some fresh mimosas and bellinis while you partake in the delectable brunch that The Boxwood has to offer. Selections include crab toast with green papaya salad and sriracha, huevos ranchero with cotija cheese and a fried egg, lobster benedict featuring artichoke and hollandaise, and much more tempting fare.
While you enjoy your meal, let The Los Angeles Jazz Band entertain you with a variety of upbeat jazz music, to add relaxation and enjoyment to your Sunday experience.
Location Info:
Boxwood Cafe
1020 N San Vicente Blvd, West Hollywood, CA 90069
(310) 358-7788