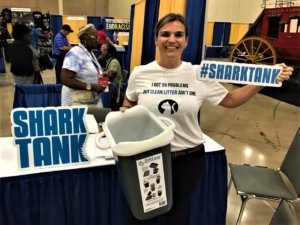 San Antonio entrepreneur Amy Wees was recently invited to audition for Shark Tank with her new invention to clean the cat litter box, SiftEase.
Wees launched her pet retail business Clean Litter Club last year after coming up with a solution to solve her stinky litter box problem. She spent a year developing prototypes and ensuring that her solution worked better than anything on the market.
This audition was not her first go at Shark Tank. In June of 2017 early in the invention process, Wees was eager to share her idea with the Sharks and bought tickets to fly to Los Angeles to wait in the long lines at an open casting call, hoping to get a chance to pitch. However, being a big fan of the show and studying many episodes of the entrepreneurs who got deals, Wees realized she wasn't far enough along in the process and needed first to grow her brand and get some initial sales before applying to the show.
The San Antonio auditions were held Sunday, July 15th, 2018 in front of Shark Tank casting directors as part of the Shark Tank Diversity Tour at the Convention Center. This event gave entrepreneurs a chance to pitch their idea on a first come, first serve basis with an approved application required. In line with Wees' fears of being too early in the process to audition in 2017, the event website mentioned "Shark Tank occasionally features entrepreneurs who have a "good idea," but the vast majority of entrepreneurs that appear on the show display traction through user acquisition, sales, and/or intellectual property protection. We look forward to seeing you pitch your business." https://sharktankdiversitytour.com/sanantonio/