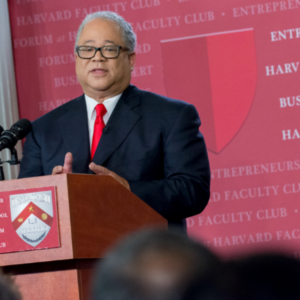 Divorce attorney Vincent W. Davis has written several books about the law to help answer common questions to navigate family issues. He recently spoke at NASDAQ, Harvard Club of New York City, and Coca-Cola. He was a featured speaker at Business Expert Forum at Harvard Faculty Club, an annual conference of thought leaders from around the globe including CEOs, dignitaries, professionals, and leaders in the technical and medical fields. Davis will speak at a storytelling forum at Harvard Club of Boston this summer.
Having personally represented over 1,000 families across the country since 1986 in their battle to get their children back, Davis is recognized for his expertise in defending parents, grandparents, foster parents and other guardians against the claims of Child Protective Services (CPS) and the Department of Children and Family Services (DCFS).
An advocate for parents and families for over three decades, Davis spoke in his presentation about how his personal childhood experiences motivated him to pursue a career in law. "As a result of the decision by the judge in that court," he said, "I didn't see my mother for the next 17 years, so I have devoted my practice to helping parents get their children back in Child Protective Services courtrooms throughout the country. Unfortunately, my story is not unique, especially nowadays. CPS abuse has become so widespread and part of our American culture that they now talk about it on popular TV shows like the FOX hit series Empire, and the Showtime series, Homeland, where the main characters had their grandchild or child taken away by CPS."
Davis discussed the three most common mistakes that people make when dealing with this agency and gave tips parents could use to help them navigate their way through a CPS investigation. Among the actions he advised was to stay calm, hire a defense attorney, maintain innocence, learn about the laws and document as much as possible.
Founder and lead attorney of the Law Offices of Vincent W. Davis & Associates, his practice specializes in Juvenile Dependency Law and in supporting law areas such as family law, probate, and juvenile and adult criminal defense. Author of the bestselling book, "The Secret: How to Fight Child Protective Service and Win," Fight Child Protective Services he hosts a radio show, Get Your Kids Back Now. With his comprehensive knowledge of family law and related issues, he has also been sought out as a guest, appearing on TV programs featured across the nation, talking on topics including how to avoid collateral damage in a divorce Watch this video.
To learn more about Vincent W. Davis, tune in at 8 a.m. PST on Saturdays for his radio show Get Kids Back Now or visit Help Fight CPS to listen to past shows.
About Vincent W. Davis
Attorney Vincent W. Davis obtained his Bachelor of Science degree in Accounting from Loyola Marymount University and his Juris Doctorate from Loyola Law School of Southern California. He has been a member of the California State Bar since December 1986. Mr. Davis is also eligible to practice law before the United States District Court for the Central District of California; the United States District Court of Appeals for the 9th Circuit and the Supreme Court of the United States. Mr. Davis acted as both trial and appellate counsel in the published cases of Marriage of David and Martha M., (2006) 140 Cal.App.4th 96 and Papakosmas v. Papakosmas, (2007) 483 F.3d 617. On January 8, 2008, Mr. Davis received a diploma from the National Institute for Trial Advocacy. In 2008, he graduated from the Gerry Spence Trial Lawyers College and became a member of the Ranch Club – Trial Lawyers College. He was one of 50 lawyers selected nationwide to live, for 22 days on Gerry Spence's Thunderhead Ranch just outside of Dubois, Wyoming. He is the founder and lead attorney of the Law Offices of Vincent W. Davis & Associates. Since 1986, Mr. Davis' practice covers Juvenile Dependency Law and supporting law areas including family law, juvenile & adult criminal defense. Mr. Davis and his associates represent clients with companion issues to Juvenile Dependency such as divorce, child custody and visitation, child support and spousal support, domestic violence, paternity, adoption matters, and division of property.
Location Info:
Law Offices of Vincent W Davis And Associates
150 N Santa Anita Ave #200, Arcadia, CA 91006
(888) 888-6582