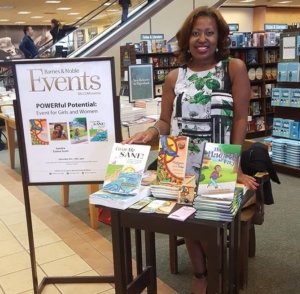 MILLIS, MA – Sandra Elaine Scott, Massachusetts author and international speaker, joins the 2018 Barnes & Noble Holiday Book Drive to help bring the joy of the holiday season to children throughout Massachusetts.
Customers who want to help build a child's library, and deepen the diversity within it, can purchase Scott's award-winning multicultural book "The Magical Day" for donation at the Burlington location, 98 Middlesex Turnpike, and Framingham store, 1 Worcester Road, between November 1 and January 1. All books donated through the book drive will go directly to local children from birth to age 12 through the Cradles to Crayons' network.
"The Magical Day," Scott's first children's book, is a story about young Donovan's adventures exploring a new environment and meeting inspiring everyday citizens when he visits the United States. Scott shares positive lessons, reinforces culturally appropriate messages and helps young readers feel proud of who they are by drawing on her own bicultural heritage and love for diversity. Barnes & Noble customers purchased more than 100 copies of the book for donation last year, helping Scott outsell Pete Souza's bestselling book "Obama: An Intimate Portrait" at the Burlington store for a week during the 2017 book drive.