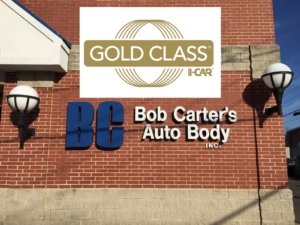 This designation comes as the result of numerous hours of training and testing by I-CAR, the Inter-Industry Conference on Auto Collision Repair.
Bob Carter's Auto Body
of Downers Grove has earned the I-CAR Gold Designation, recognizing them for outstanding commitment to proper and safe auto body repair.
In the course of almost a year, each technician was required to complete and pass a minimum of 6 hours of classes, while 4 specialists took and passed up to 12 or 14 hours of class. The type and location of classes varied, with some online, some virtual, some on-site at I-CAR training headquarters, and some hands-on as well. Owner Bob Carter states, "The classroom training is just as meaningful as the hands-on training because you need to know what you are doing, you need the technical knowledge to pass the class."
By undergoing the process to achieve I-CAR Gold, everyone at the shop deepened their already considerable knowledge of how to properly repair cars. What's recommended, how to determine and assess damage properly. And then to make sure that they have the appropriate person assigned to do the repair, qualified in that particular area. Because of this they are required to have four specialists: Structural, Non-Structural, Refinish, and an Estimator who knows how to assess damage, including hidden damage.