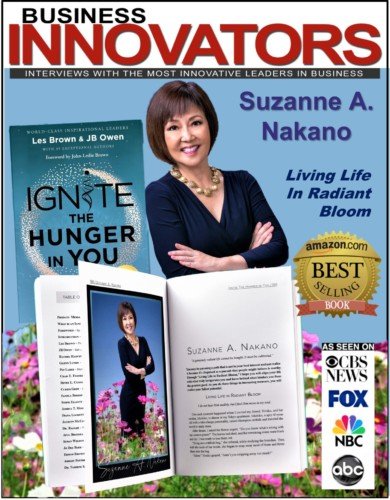 Each of the 35 authors recounts an "IGNITE Moment," the moment that changed their life. As a result, this book is filled with powerful insights from a multitude of perspectives and action steps that readers can apply to ignite positive change in their own lives.
 "At a time when everyone is craving hope and inspiration, I decided to use "IGNITE the Hunger in You" to respond to the world's desperate need for stories, such as mine, about overcoming adversity and how to do it," says Suzanne Nakano.
 Suzanne is hosting a Free Book Launch Celebration.
Date: Saturday, December 18, 2021
Time: 2 – 5 p.m.
Place: McKinley High School Auditorium, 1039 S. King St. in Honolulu, HI 96814
Two authors will share parts of their stories, and a jazz band of acclaimed McKinley High School alumni musicians will perform. Reservations are required for this event. Please contact suzanne@suzannenakano.com for more information.
Suzanne will also be signing books on the following day, Sunday, at two bookstores, which are open to the public. No reservations are required.