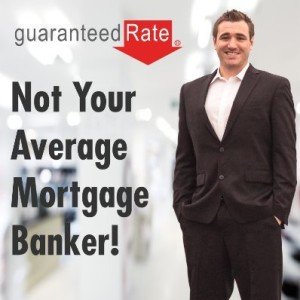 Having grown up in the mortgage industry, Brett Butler, VP of Mortgage Lending at Guaranteed Rate, is a pro at both marketing and loan origination. He started his career as a kid working with his mother, also a successful originator.
Brett's first few jobs were marketing focused, from stuffing envelopes to planning drip marketing campaigns. When Brett's mom started her own mortgage company, Brett joined his mom, entering rates, reading rate sheets and updating databases. Later, as a tech savvy millennial, he decided to immerse himself in marketing.
In our interview, Brett shares his insights into marketing, branding and building trust with clients.
Jeremy: Great to talk to you Brett! We have similar backgrounds in the sense that we've both alternated between marketing and loan origination. Are you still producing as well or are you exclusively focused on the marketing side of things?
Brett: I feel like every successful person I've seen really has multiple streams to the point where you really can't focus all your attention on one thing because you don't want to put all your eggs in one basket. Obviously, you have the opportunity to fail overnight. If you can build it overnight, it can fail overnight. So I wanted to explore a few different opportunities and just try to live that entrepreneur spirit and see where I can find the right niche or the right technology or passion to really bring me to the next level. To support the lifestyle and income that I want. It's all about finding the right opportunity and exploring and learning along the way.
Jeremy: It seems like you've invested in building your own brand over the years. Any sort of advice or insight that you provide to other mortgage loan officers on branding?
Brett: Well it's very interesting. It kind of depends on which mortgage company you actually go with. Depending on where you are as a loan officer, whether you are a young loan officer who is just starting whether you're entering the business and have your own pipeline of realtors and what not, depending on what stage you are and what company you're with, that's going to depend on whether you're going to be able to brand just yourself and your company's brand, or whether you're going to be able to create your own brand.
I have always been personally a fan of creating your own brand, but with a lot of companies especially the ones that offer so much support like guarantee a rate and what not, they don't allow that. You can't create your own mortgage group out of nowhere. Whereas a lot of the small time lenders will allow you to do that because you have more ownership, you have control of the compensation plans.
You have a lot more different things and just flexibility at small to medium size lenders than you do at some of the big boys, but the big boys offer all the support. So it kind of depends on what you want to do and what your strengths and weaknesses are as a person.
Jeremy: So there's kind of two areas here, personal branding and building authority, I guess trust and authority of the marketplace. So there's various ways to build authority, like what you're doing right now, media appearances and stuff like that. Any advice you'd offer on that side of things in terms of how to build trust and authority in the marketplace?
Brett: I think when it comes to building your authority and reputation marketing does help and your brand is always going to support what you're trying to accomplish and be able to highlight some of the things you want people to see you as or perceive you as. But I feel like in order to establish yourself as a professional with that reputation, you have to really explore all sides.
I mean, you can't be the guy that just focuses on one thing over and over again because it's slightly having a return on your investment. You know you have to be open-minded enough to explore social media. You have to be open-minded enough to figure out what Google advertisements is about and get your online reputation. You need to figure out how to hold events in your communities and how to really engage with realtors on a different level. You know you need to figure out what your actual marketing blueprint is.
There are so many different things that you need to open up your mind to, but where I see loan offices kind of get stuck is they get in a rhythm of one thing working out, one strategy working out. And they do it over and over and over again and they're wondering why they're not growing.
It's because you're doing the same thing over and over again, building a brand and building a reputation is about exploring and opening your mind to other possibilities, and then when you're growing and learning yourself. So not only are you building your reputation with everyone else, but you have enough personal development to actually go out there and live up to that reputation.
Jeremy: Now do you feel that most loan officers over invest or under invest in marketing?
Brett: I would say under invest hardcore. I would say companies under invest, I would say just the generic standard of marketing in this industry is actually pretty bad.
But when you think about it, it makes sense. Not every salesperson is a good marketer. They're not graphic designers. They spend their time out selling and trying to connect with realtors, trying to make phone calls, going through the mortgage process and helping their team develop.
So you need to have, on some level, someone that is able to handle some of that marketing or is able to tag team with it because as a loan officer being a CEO of your own business and having to do every single angle from marketing, to accounting, to branding, to everything else that you have to do, it's almost overwhelming.