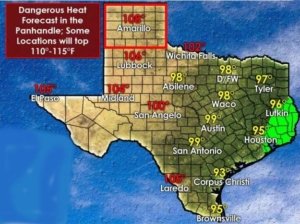 In Texas, we have to get used to extreme heat, especially in the summer. However, the temperatures we have coming out way in the near future are going to be worse than many people can handle. The air we are getting is coming straight from the Sahara Desert, believe it or not. This hazy hot air is coming across the Atlantic and infiltrating our Texas climate and mixing with our pollutants. This means that you can expect hazier conditions and even African dust floating on the Atlantic. Several hundred million tons of Saharan desert soil is displaced every year to the United States, and this year there will be even more.
When you combine our regular Texas pollution with the Sahara dust, you can bet that our urban areas will be hazier than normal. We should all be concerned about the unhealthy air quality that can be a result of these conditions. The heat combined with poor air quality can create terrible health issues for those who are overexposed and have heart and lung disease. The elderly and children are also at a greater risk of having health issues. The best course of action is to limit the amount of time outside and to avoid too much exertion.
The strange thing is, there is a good side to having all this dust. The dry air that blows over the Atlantic from the Sahara can actually help prevent the formation of hurricanes. While this is certainly a benefit, it, unfortunately, does not balance out the fact that the air can irritate allergies and cause major issues for those with respiratory and circulatory issues.
One thing you can do to help protect against poor air quality is to replace your air conditioning filters. This will help prevent dust from getting into your home. Air conditioners work by bringing in air from the outside and cooling it. The filter removes dirt, debris, and dust from the air before it gets circulated throughout the home. If the filter gets too congested, then the inside of your air conditioner will get dirty. This means that it will start spreading those contaminants to every room in your house.
Not only that, but an accumulation of dust and dirt in the air conditioner can lead to performance problems as well. The efficiency of the until will suffer, causing poor cooling and higher energy bills. If too much dust collects on the evaporator coil or the condenser, then it can stop heat from being released outside. The home will not get as cool as required, and the unit will work harder to compensate. This causes more energy use and also leads to parts wearing down prematurely.
While you certainly do not want an inefficient unit, perhaps the worst drawback is that the air quality in your home will suffer. A clogged air filter will cause all of those particles to be dispersed throughout the home. Occupants with allergies or other health issues will start to wheeze and cough on a regular basis. Pets can also be at risk.
This brings us to the importance of changing the air filter. Make sure that you have a clean, free-flowing filter at all times. You can also spray down the air condenser coil outside with a garden hose to get the dirt away. Cleaning inside the unit, however, is best left to the professionals. To properly and fully clean out the system, then some components must be removed for cleaning. You do not want to chance causing damage by trying to do the repairs yourself. You may end up inadvertently damaging the system, which would cost even more in repairs.
About Berkeys
Texas-based Berkeys has been providing quality plumbing, air conditioning, and heating services to homeowners in the Dallas / Fort Worth metroplex since 1975.
The company sells America's top-rated brands of plumbing, AC repair, and heating equipment known for high efficiency, reliability, and serviceability; and it services all brands and makes of plumbing and air conditioning equipment.