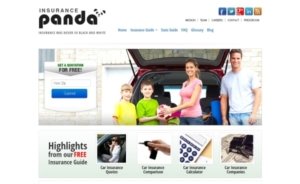 InsurancePanda.com, a leading car insurance comparison solution for savvy automobile drivers nationwide, released a new insurance ranking report for drivers: The 25 Best Auto Insurance Companies in America. This comprehensive guide provides information, tips, and additional resources for drivers of all ages looking to find affordable insurance coverage.
Aside from being a top rated independent research and recommendation platform for a wide array of insurance carriers, InsurancePanda.com is also a leader in industry education. InsurancePanda.com regularly publishes high quality content on insurance claims, coverage and industry updates, sharing knowledge garnered from years in the industry working with dozens of auto insurance providers across the nation. The newly revised report perfectly complements the already extensive collection of resources available.
The ranking report breaks down the automotive insurance search into eight steps: pre-search, the search, the visit, the application process, preparing the application, submitting the application, setting up, and getting out there to drive. Each section walks the reader through everything they might need to know, including common mistakes to avoid.