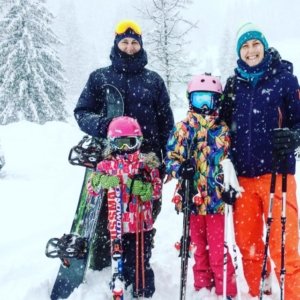 Neil Howe and The Nomadder Podcast welcomed featured guest, Mags Nixon, a self-professed travel geek on the show to talk about her life travel adventures growing up and now with her family.
Mags explained why travel has been so important to her and how she has integrated into her family as an important bonding and learning experience both for her and her husband, Scott, and their two daughters, Minnie and Bo.
Nixon encourages other families to get out there and travel, sharing, "There is a huge world out there and we only have one life. We don't want to lie on our deathbed with regrets. There is no better time than now to do what you want to do to make your dreams come true. If you think that it's not possible, think again. You can do anything that you want to do. It's just a question of splitting it into manageable chunks and having a plan and believing that you can do it."
You can listen to the full interview here on Youtube.
Neil Howe, host of The Nomadder Podcast is a Best Selling Author and Writer for Small Business Trendsetters and Business Innovators Magazine. He has been featured on ABC, CBS, NBC, and Fox News and travels the country full time with his wife, Amanda, daughters, Avie & Paisley as well as their service dog, Bailey.
Mags Nixon writes an adventure family travel blog, The Family Freestylers. She is a Mother, writer, and avid traveler, Mags has traveled the globe far & wide even winning one of the first reality travel shows, Lost. Mags, her two girls, and husband are based in the French Alps & travel the world family volunteering in Borneo, climbing 4000m peaks or having adventures in their backyard. The Family Freestylers hope to inspire other families to find the adventure outdoors and to step outside their comfort zone.
More information about Mags Nixon and The Family Freestylers can be found at https://www.thefamilyfreestylers.com/ or https://www.instagram.com/thefamilyfreestylers/
More episodes from The Nomadder Podcast can be found at https://nohomenomadder.com/family-travel-podcast/