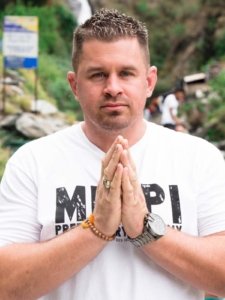 Puder is a fighter and a winner. He has
earned the titles of Undefeated Mixed Martial Arts Fighter and champion of WWE's Million Dollar Tough Enough Competition. But the accomplishment he says he is most proud of is his non-profit brand,
My Life My Power (MLMP)
and its programs focused on children, educators and businesses.
The organization works with youth in kindergarten through 12th grade via its curriculum focused on positive behavior reinforcement and self-confidence. The program has been operated in some of the country's largest school districts. Meanwhile, the My Life My Power Institute (MLMPI) collaborates with academic partners on long-term programs to improve emotional intelligence and achievement for students; and with corporate partners to help transform workplace cultures. Both programs are based on My Life My Power's trademarked Black Belt Transformational Mentorship Training.
Puder says My Life My Power's training programs are science- and evidence-based and have been shown to decrease aggression and victimization and increase self-esteem and purpose, as proven through pre- and post-training assessments.