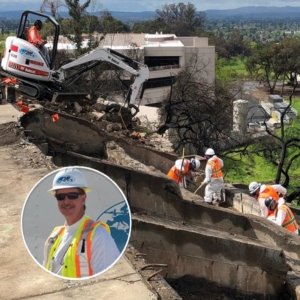 Roseville, Ca. – JM Environmental, Inc. and president John Moore announced they were featured in Comstock's magazine July 2018 Issue in "Profiles In Leadership". In the profile, John Moore and JM Environmental Inc. are recognized for their leadership in the hazardous materials abatement and demolition industry. Also highlighted was their role in the fire debris removal and cleanup in the Santa Rosa region after the devesting October 2017 wildfires.
"I am a very competitive person and love the challenges associated with this industry, plus I have a great team. I made it a habit early on, to invest in the best training, tools, and equipment for the business so that we can always provide a better product to our customers", John Moore commented in the profile.
A Santa Rosa fire debris project highlighted in the profile was work for an HOA by JM Environmental Inc. For one of the nation's largest insurance carriers, this was their largest single residential insurance property claim to date.
As they did for the October 2017 California wildfires, JM Environmental Inc. is gearing up and responding to the devastating 2018 wildfires. They have crews ready for the Carr Fire, Ranch Fire, River Fires and Mendocino Complex Fires. Information and examples about JM Environmental's response for wildfire debris and cleanup can be found at http://jmenvironmental.net/asbestos-lead-mold-removal/wildfire-debris-and-ash-removal/
"JM Environmental Inc. and John Moore are recognized leaders in our region for complex demolition services and environmental abatement. As someone active in many Commercial Real Estate, Architectural, Construction and Environmental circles, I often hear other industry leaders cite JME's involvement as a valued partner in their key projects.", Clayton Blakley, Vice President/Business Development, Comstock's magazine.
About JM Environmental, Inc.:
JM Environmental, Inc. are specialists in hazardous materials abatement and demolition. Founded and led by John Moore, they have been servicing northern California and northern Nevada areas for over twenty years. JM Environmental is licensed in California (#693564 A, B, C21, C-22, ASB, & HAZ) and Nevada (#0073480 A-13, A-22, & A-23). Some of their specialties include fire debris and ash removal, concrete demolition and debris removal, asbestos abatement, lead removal, demolition, mold remediation, and bio-hazard remediation. For more information call (916) 726-0304 or go to http://www.jmenv.com
Location Info:
JM Environmental Inc.
213 Kenroy Ln # 1, Roseville, California 95678
916-726-0304