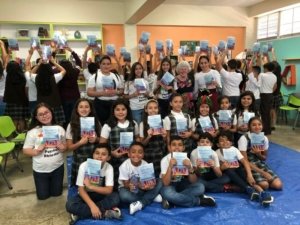 Life coach and Amazon #1 best-selling children's book author, Jacque Marling de Cuéllar, reveals how simple mindfulness exercises like belly breathing or creating a glitter bottle can play a major role in the Hurricane Mariá PTSD (Post Traumatic Stress Disorder) recovery process suffered by so many Puerto Rican school children.
The necessity for these simple restorative life skills was highlighted in a study published in April 2019. Hurricane Mariá, which struck Puerto Rico as a Category 4 hurricane in September 2017, killed an estimated 2,975 people within the American commonwealth. Residents struggled to access clean water, and some remained without electricity nearly a year after the storm. The cumulative stresses of Hurricane Maria contributed to thousands of schoolchildren developing symptoms of PTSD due to food shortages, damaged homes, fear of death, and loved ones leaving according to the study.
Realizing the potential trauma of natural disasters like hurricanes, Marling de Cuéllar began to visit Puerto Rican schools six months after the hurricane and offered stories, meditation, and a mindfulness self-care program using play to children and their parents. These critical life skills taught self-care, prevention and coping strategies with the ongoing aftermath of the traumatic event.