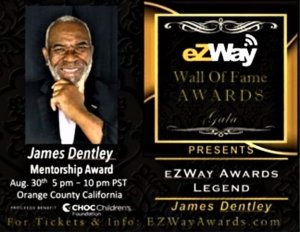 The eZWay Network, Promotions, and Events
are proud to be able to celebrate with
Dr. James Dentley III
, who has been a mentor and friend to the legendary Les Brown, contributing guidance and his support along the way. Dr. Dentley is a businessman, unlike many others, who is a master at building teams and results.
eWay
will be presenting him with the
James Dentley Mentorship Award
.
Dr. James Dentley is an entrepreneur, best-selling author, philanthropist, and one of the nation's top Life and Business Strategist. As one of the world's most renowned motivational speakers.
Dentley is a dynamic personality and highly-sought-after resource in business and professional circles for Fortune 500 CEOs, small business owners, non-profit and community leaders from all sectors of society looking to expand opportunity. Dentley hosts and speaks at events all over the world! He is the best-selling author of the books 'The 5 Frequencies of High Performance' and 'MLM Mastery.' He created the #1 speakers and communication program 'Inspired2Speak: Action Camp. His passion is to empower entrepreneurs and business owners to create massive success and to achieve their dreams.