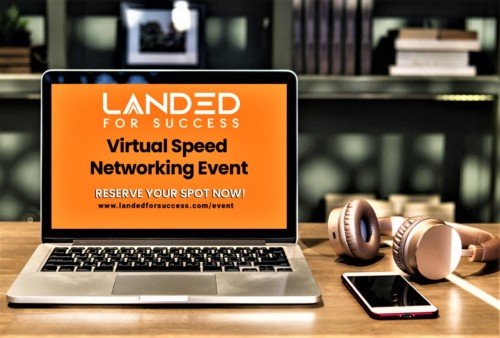 Landed for Success Inc. (LFS) is a GLOBAL Elite Business & Branding Networking Group comprised of business professionals who collectively possess a wealth of knowledge and experience within various business sectors. Their unique business model is a next-level way of marketing your business and an environment for aspiring and established entrepreneurs and business owners alike to promote their business and network. LFS is a community that values creating opportunities for personal and professional growth. They encourage their members to promote their business and who they are.
LFS was the brainchild of co-founders Jey Jeyakanthan and Gordon So, both highly experienced entrepreneurs who understand the challenges and work ethic required to run a successful business. Their vision is to build a global platform that will allow business owners, entrepreneurs, authors, coaches, and speakers to not only be able to network and share their business profiles but also their business stories on how they have "Landed for Success." These stories have the potential to impact millions of people all around the world.
LFS provides a free membership through a Facebook group that has 19.4 thousand members and growing. Additionally, members can subscribe to a private group with exclusive membership benefits. Membership is reviewed and approved to ensure business leaders around the world can optimize professional networking opportunities. This interactive platform is a safe environment to network, build relationships, and collaborate. Integrity matters here!
To learn more about how to become an LFS Lifetime Member and enjoy exclusive networking and learning opportunities inside our private membership area.
https://www.lfs.landedforsuccess.com/becomeamember
LFS has grown an incredible community by having fun navigating within the group of business professionals and growing each and everyone's network and net wealth through collaboration and connectivity. LFS provides virtual speed networking and training opportunities to aid in personal and business development. Networking events last Thursday of every month from 7:00 PM to 9:00 PM EST (Via zoom) where individuals can meet and network with pros and entrepreneurs in local and national markets. The event's format involves individuals making a 30-second elevator pitch about their business and asking others to think of ways they could work together. These pitches help individuals meet new people, find mentors, and refine their pathway to success. It also provides an opportunity to keep up with the times, as experts pinpoint the latest trends and tools that actually deserve your attention.
LFS also provides a successful authorship program. They believe everyone has a unique story, one which has the ability to uplift and inspire others to succeed. Eighteen co-authors collaborated in volume one of the inaugural book series, "Landed for Success, Untold Stories," successfully launching in the spring of 2021 as an international bestseller on Amazon.
The LFS book series encourages authorship, as individuals authentically share their stories of struggles, obstacles, and how they have overcome these challenges and have landed for success. In addition, becoming a published author can help to grow and promote more business. It provides an opportunity to gain more credibility, influence, celebrity status and may even attract media attention. Some of the co-authors from volume one were featured in print and television media outlets, podcast interviews, and invited to participate in international business forums.
LFS will be launching volume two, "Landed for Success, Untold Stories- From Burnout to Victory," in December 2021. It is an honor to have Sir John Shin, the executive producer of the movie "Think and Grow Rich Legacy," write the foreword in both volumes.
Gordon and  Jey extend this invitation, "If you are interested in becoming a published author and would like to align yourself with successful entrepreneurs such as Sir John Shin and over 20 other successful business owners and entrepreneurs from all around the world, you can set up a 15-minute discovery call with one of our team members by sending an email to info@landedforsuccess.com."
CO-FOUNDERS:
GORDON SO is the CEO & Founder of Social Media Currency. Gordon has a strong background in the real estate mortgage industry. As a retired professional network marketer, he has helped many companies successfully launch into Canada, UK, Europe, Asia Pacific, and Mexico. Over the past 10 years, he has worked with authors, speakers, coaches, small business owners, helping them successfully launch new brands and market their products and services. Gordon is a successful business coach and has helped over 200+ individuals become #1 International Best-Selling Authors, Podcasters and Speakers. In addition, he is a sought-after Transformational and Motivational Speaker.
JEY JEYAKANTHAN is a highly successful entrepreneur and IT professional with over 22 years in Business Development, Project Management & Business Transformation for Fortune-200 companies. Jey is a Director of Sophia Hilton Foundation of Canada, Executive Director of Never give up the foundation, Peace, and past Director of Canadian Tamils' Chamber of Commerce & Member of Markham Board of Trade. Jey founded AVAJ Future Solutions. AVAJ is an Information Technology and Services Company that's an Innovative, Reliable Partner Global offerings of Software, Mobile App Development, Mobile Responsive Websites, Digital Marketing, Social Media Management, and SEO. Jey is also an international bestselling author, social media influencer and actively involved with Canada's many volunteer and advocacy organizations.
TESTIMONIALS:
"Being a part of the Landed For Success (LFS) community has provided me with an excellent opportunity not just to grow my contact base but build meaningful relationships with like-minded entrepreneurs. I have already received an abundance of leads and clients from within the community and am excited to grow as the community continues to grow. I'm excited to be partnering with LFS in the launch of the upcoming book, and the process of working with Gordon and Jey has been a wonderful experience. Gordon and Jey share a deep-rooted passion for growing the LFS community, and their desire to grow LFS is contagious, and I'm excited to be a part of the journey."
– Jason Hunt, Co-founder, Merged Media
"Landed for Success (LFS) gave me an excellent opportunity to connect with like-minded people and very established business owners. These networking opportunities help our BlueMind and LifePlan Investments grow, develop new ventures, and explore new territories. Compared to many other regular networking clubs, LFS is not expensive, has good value for your money, and provides many opportunities to build your business or professional career. Jey, Gordon, and their team are incredible; they take every step to help you succeed in your journey. I would highly recommend LFS for anyone to grow their professional network."
-Akil Balachandran, Founder and CEO LifePlan Investments, and BlueMind