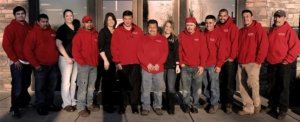 FOR IMMEDIATE RELEASE:
Saint Helens, OR – June 6, 2018: Mark's Custom Exteriors
Mark's Custom Exteriors of Saint Helens, Oregon, has received the most prestigious contractor award GAF offers: The GAF President's Club Award. This highly coveted award recognizes Mark's Custom Exteriors as one of the "elite of the elite" residential roofing contractors in the United States.
GAF is North America's largest roofing manufacturer, and only GAF Master Elite(R) Contractors can compete for its residential President's Club Award. To qualify for this award, a residential roofing contractor must meet specific criteria in at least one out of three different pathways:
• Performance pathway – where contractors focus on giving their property owners the best possible service, quality, and protection
• Reliability pathway – where the contractor has a long history of offering their customers the best quality and protection
• Service pathway – where contractors consistently offer their customers the best protection available in the marketplace.
Mark's Custom Exteriors has been a GAF Master Elite(R) Contractor since 2011. To become a Master Elite(R) Contractor–a status that less than 2% of roofing contractors nationwide are able to achieve–a candidate must demonstrate proper licensing (in states that require it), maintain insurance, have a proven reputation, and show commitment to ongoing professional training.
"We value our certified contractors for raising the industry standard year after year by installing the best roofing products and systems. Our President's Club award recognizes only those contractors who have distinguished themselves by the highest standards of excellence, customer satisfaction, and dependability," says Jim Slauson, GAF's VP of Certified Program & Services.
"A very high level of trust and faith in our ability"–those are the reasons why customers hire Mark's Custom Exteriors, according to owner Mark Holcomb. "We've been in business for more than 20 years and demonstrate a high level of customer service. New customers do some research on our track record, and they feel comfortable with that."
With experienced sales staff and roofing technicians who are factory certified, Mark's Custom Exteriors makes it a priority to stay current on industry and manufacturer specifications. "All of our installation crews are hourly, in-house employees," explains Holcomb. "No subcontractors. That sets us apart from a lot of roofing contractors in our marketplace. And we use only the highest quality materials, backed up with the best warranties available. Our customers are guaranteed to be satisfied with the roofing job we do."
"There's quite a lot of interaction with our customers," continues Holcomb. "We always have a site foreman at every project, at all times. The foreman keeps the customer informed and 'in the loop' about what's being done and what still remains to be done. People appreciate that." The attention to customers is reflected in the company's ratings and reviews; Mark's Custom Exteriors is an A-rated provider on Angie's List and holds an A+ accreditation with the Better Business Bureau.
In 2015, Mark's Custom Exteriors began partnering with No Roof Left Behind(TM), a nationwide program in which members of a community nominate a neighbor who has fallen on hard times. That neighbor then becomes the recipient of a new roof, free of charge and installed by the local contractor. "This is one of the newest things we've taken on, and we're really excited about being involved with this project," says Holcomb. The company also works with Habitat for Humanity and is a GAF Certified Green Roofer(TM).
Moving forward, Mark's Custom Exteriors has the goal of expanding into the larger Portland Metro and Vancouver markets. "We want to be more established in those areas and have more of an impact in serving those customers," concludes Holcomb. "A satisfied customer is our greatest source of new business. As we say on our website: 'We are here tomorrow to stand behind what we do today.' And I believe that's what most folks are looking for."
About Mark's Custom Exteriors
A family-owned business, Mark's Custom Exteriors has provided roofing replacement and maintenance services in the greater Portland area for more than 20 years. The company is committed to being a leader in the industry by exceeding customers' expectations. With in-house installation crews that are fully trained and factory-certified, Mark's Custom Exteriors believes that "Coming together is beginning, keeping together is progress, working together is success!"
Mark's Custom Exteriors
58581 Columbia River Hwy
Saint Helens, OR 97051
(503) 397-2215
http://www.mceroof.com
Facebook: https://www.facebook.com/MCERoof
Twitter: https://twitter.com/MarksCustom
LinkedIn: https://www.linkedin.com/company/mark%27s-custom-exteriors
Video: https://vimeo.com/123271034
About GAF:
Founded in 1886, GAF is the leading roofing and waterproofing manufacturer in North America. As a member of the Standard Industries family of companies, GAF is part of the largest roofing and waterproofing business in the world. The company's products include a comprehensive portfolio of roofing and waterproofing solutions for residential and commercial properties as well as for civil engineering applications. The full GAF portfolio of solutions is supported by an extensive national network of factory-certified contractors. GAF continues to be the leader in quality and offers comprehensive warranty protection on its products and systems. The company's success is driven by a commitment to empowering its people to deliver advanced quality and purposeful innovation. For more information about GAF, visit http://www.gaf.com