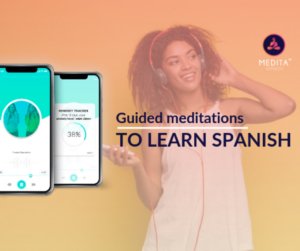 The app
, which has been developed in close collaboration with clinical psychologists, Spanish language teachers, neuro-linguistic programming (NLP) experts, mindset and meditation experts, is specifically designed to help people learn Spanish with a unique guided meditation style approach to learning.
Ruiz says that "Learning a foreign language is mostly about having the right mindset. Without this, it will take a lot longer to have the desired results. With the app, we hack people's brain, so they are at peak performance to learn. If you have focus, the right motivation and your stress level is down; the knowledge will stick." The app uses a mix of guided meditations, mindful practices and NLP (neuro-linguistic programming) to create the perfect learning environment.
"People ask me how they can meditate and learn Spanish at the same time. Meditation is a natural cognitive enhancer. It doesn't always have to be you sitting in silence on your yoga mat. It can actually be something that is a reflective experience. This is why we developed a mind active method for our guided meditations," shared Ruiz. "Our meditation method is not body passive; it's mind active. We use higher frequency voice patterns and upbeat sounds in our guided meditations. This is a subtle but key way of keeping your mind active and energized. The difference in our meditations and others is that we are boosting your brain power and unlocking specific belief systems to help shift your mindset for maximum learning potential."
The content of the Medita Spanish app is standardizedbased on the Instituto Cervantes curriculum, which is the Spanish curriculum that is followed worldwide and includes guided meditations forevery subject from physical descriptionsand characteristics to family, colors, food and emotions. "There is even a visualization about somebody you love. We do this because the more personal it is,the more your mind relates to the lesson," adds Ruiz.
The app combines video stories, audio stories and infographics, making ideas easy to remember and improving learning by 400 percent and help the users acquire Spanish in a natural way rather than consciously. In other words, learning becomes easier and enjoyable. This is why it has already won two bronze Stevies from the American Business Awards: for Startup of The Year and Tech Startup of The Year. "But the most valued prizes are the results of our users like increasing confidence by 23 percent and learning motivation by 16 percent, while decreasing anxiety by 13 percent," adds Ruiz. "And the coolest part is that we are able to analyze how you feel before and after the meditations. This allows us to measure your progress so we will be able to tell you what works best for you. Because our motto is: if you can't measure it, you can't improve it."
Ruiz concludes that "We foster a growth mindset by incorporating meditation in our learning methodology and we have seen a dramatic change in our students' performance. Bringing together Spanish learning and meditation techniques can be a game-changer because we are making the learning process more meaningful. It is very effective for improving focus, the way brain processes and stores new information while increasing the overall productivity."
After years of teaching Spanish at Cambridge University, Ines Ruiz realized that learning a new language does not depend on IQ or language and grammar skills, but on having the right mindset. As a result, she founded Medita Spanish, a company that uses innovative mindset techniques to accelerate the results of its students. Find more at https://www.meditaspanish.com