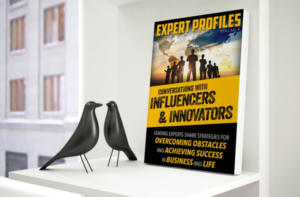 "Expert Profiles Volume 4 – Conversations with Influencers & Innovators," hit Amazon.com's best seller list on September 11, 2018, climbing all the way to Number One in the Service Industry category, and reaching Number Two in the Financial Services Industry and Company Business Profiles categories. The book was also an Amazon Hot New Release in the Service Industry, Financial Services Industry, and Company Business Profiles categories.
Atlanta Mortgage Banker, Kendra Seck is a featured contributor to this compilation of 1 on 1 conversations with some of the top entrepreneurs in their industry. Each contributing author reveals their strategies for helping overcome the toughest obstacles standing in the way of their customer's success. Seck shares how she is able to help her clients generate generational wealth by looking at their home as an investment and not just a dwelling place.
Kendra Seck states, "The real estate market will change, make sure you are on the correct side when it does. Your home is one of your many investment tools, use it"
Kendra Seck is a well-known Mortgage Lender, Realtor, author, speaker and educator in the Atlanta Metro area. She has helped many people turn their homes into an investment vehicle. She is dedicated to help educate homeowners and investors in the changing Atlanta real estate market how to get access to money to make real estate investing a rewarding endeavor. Her mission and purpose is to empower homeowners to think in a different way about their biggest singular investment. Their home!
To learn more about Kendra Seck, visit: http://KendraSeck.com

Expert Profiles is available on Amazon.com in Paperback and Kindle at https://www.amazon.com/dp/B07GV3B238
Retail royalties from the sale of the book go to benefit Global Autism Project.
About Global Autism Project:
Global Autism Project 501(c)3, is a nonprofit organization which provides training to local individuals in evidence-based practices for individuals with autism. Global Autism Project believes that every child has the ability to learn and their potential should not be limited by geographical bounds. The Global Autism Project seeks to eliminate the disparity in service provision seen around the world by providing high-quality training to individuals providing services in their local community. This training is made sustainable through regular training trips and contiguous remote training.
To learn more about Global Autism Project, visit https://globalautismproject.org/.