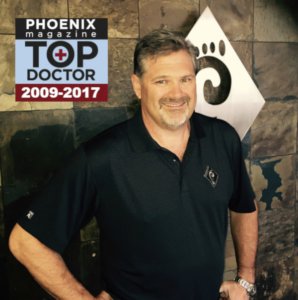 Dr. Harlan is known for a great many things. He is a diplomat with the American Board of Foot and Ankle Surgery and a fellow of the College of American Foot and Ankle Surgeons. He is also a member of the American as well as the Arizona Podiatric Medical Association.
Now he is the founder and medical director at his own practice: Phoenix Foot and Ankle. Yet getting to where he is now took a lot of time and effort.
Twenty three years ago, the landscape in Phoenix medicine was quite different. He was the first podiatrist to get surgical privileges at Good Samaritan Hospital. As a result, he was appointed as the first chief of the section for podiatry in the orthopedic department. His persistence paid off. In addition to his other accomplishments, he was voted Top Doc in Phoenix for several years in a row. It wasn't for prestige that Dr. Harlan got into medicine, however.
"I started out of college into research, and did pharmacology. I've found that my strength is really helping people, interacting with people, and not so much doing the research. So it was a natural bridge to come back in after starting in the research field. It allows me to use those skills to kind of help people and interact with them, and that's what I like to do."