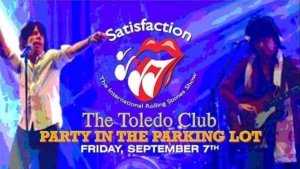 The Rolling Stones tribute band, "Satisfaction", was last year's event headliner. They will be coming back to bring their internationally acclaimed performance back to Toledo OH. The theme of this year's event is appropriately titled:
"Let's Get 'Stoned' Again!"
And with that play on words, organizers hope those in the area will join in for a night promised to be filled with some good old-fashioned, "Rock and Roll!"
Tom Baird, Co-Chairman of the event, commented with his thoughts about the upcoming annual event: "This is a great opportunity for people from all around the Toledo area to come together, have a great time and enjoy some fantastic music. Baird, a longtime Toledo-area resident and owner of ToledoCPAs.com, with a branch office in the downtown area and has seen his share of local entertainment, believes this is a "must see" event.
"People who attended last year's event absolutely loved this band and wanted them back. So that's what we're doing. They're really that good!"
The featured band, "Satisfaction" is in its 18th year of production, with over 3,500 appearances. Rolling Stone magazine said of the band: "One of the best tribute shows in the world".
Information about the band and the event can be found: https://www.facebook.com/ToledoClubEvents
The band is slated to play from 8:30 pm – 10:30 pm. DJ, Jim Lieber of Sounds of Music, will entertain attendees with dance music before and after the band's performance. And "Candace & Chris" will also be performing in the Red Room of the Toledo Club.
Tickets are $15.00 in advance and $20.00 on the day of the event at the door. More details can be found on the event page: https://www.facebook.com/events/303099483600229/
The event is open to the public, which means that attendees do NOT have to be members of The Toledo Club to attend. All attendees must be 21+ years of age.
The downtown event is in support of the UpTown Association
Location Info:
Toledo Club
235 14th St, Toledo, OH 43604
(419) 243-2200