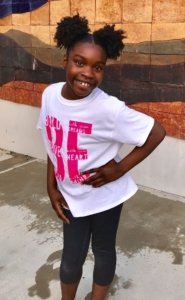 London's Read-a-Thon
is an initiative that was formed to encourage children to fall in love with reading while raising money to provide books to homeless and less fortunate children who have never owned a book before.
London Loree, a 9-year-old public school student, has already read more than 250 books in less than sixty days and is on target to read 1,000 books before her 10th birthday on January 8, 2020.
What started out as a Sunday morning mother/daughter chit-chat about their annual goals turned into Loree saying "Mommy, I want to read 100…no, 1,000 books in one year." With the help of her single mother, Lydia Elle, London's Read-a-Thon was born. With her insatiable appetite for reading, Loree views 1,000 books in a year as an easy task to accomplish. She discovers new and exciting adventures every time opens a book. Loree strongly feels that "reading offers me a way to explore new ideas and use my imagination." Her passion for reading and her desire to help others quickly blossomed into a full reading marathon.
The London's Read-a-Thon mission is to empower children of all ages to discover and develop their educational identity through literacy, the arts and sciences, and service.
According to Hugh Ryan, Principal at Amestoy Elementary in Gardena, CA, "Reading in elementary is so important because students are required to read in every subject area such as math, science, and social studies. Having the ability to read serves as the pathway to critical thinking and problem-solving skills that are required in the real world."
London's Read-a-Thon is the first initiative under London's Learning, Inc., a non-profit organization that encourages children in literacy, STEM, the arts and community service to discover their potential. Loree's goal is to offer the gift of literacy to children around the world; for every book read, a book will be donated to a less fortunate or homeless child.
According to the Children's Literacy Foundation:
61% of low-income families have no age-appropriate books in their homes (1)
One out of six children who do not read at age level by the end of third grade will not graduate from high school (2)
68% of America's fourth graders read at a below proficient level. 82% of those children are from low-income families. (3)
How To Get Involved
Although this is Loree's personal goal, she does not want to do it alone. Donations are now being accepted on a monthly basis or as one-time contribution at London's Read-a-thon, allowing Loree to provide books to children who are less fortunate or homeless. Brand new children's books can be mailed to PO Box 3581 Gardena, CA 90247. Her goal is to donate more than 1,000 books by January 2020 to match the number of books she will read during this initiative.
About London Loree
London Loree is the bubbly, 9-year-old little girl behind the London's Read-a-Thon Challenge. In many ways, London is the typical 3rd grader, only she has a voracious appetite for consuming books and meeting her goals. London has created her own gantt chart that outlines her reading and play schedule. As an avid beach lover, London loves walking the various piers in her beachside community and visiting her local library. Her favorite day is "wellness Friday", but don't let the name fool you. Although this day might include a message and a manicure, it typically ends with ice cream and cookies. This effervescent 3rd grader loves to read and wants to encourage other children to love to read too. "I truly believe that I can do anything… and 1,000 books is just the beginning!"
(1) Source: Reading Literacy in the United States: Findings from the IEA Reading Literacy Study, 1996.)
(2) http://clifonline.org/resources/research/
(3) Source: Annie E. Casey Foundation, Early Warning: Why Reading at the End of Third Grade Matters, 2010) [link: http://datacenter.kidscount.org/reports/readingmatters.aspx]