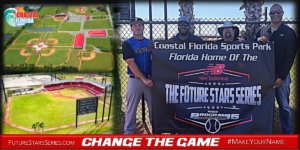 Future Stars Series Scouting and Evaluation events, led by PROGRAM 15's faculty and staff of former pro scouts, Major League All-Stars and World Series veterans has built a reputation as the most comprehensive amateur baseball player identification and development experiences available.
With Florida being the spring training home to half of Major League Baseball teams it makes perfect sense that PROGRAM 15 has selected Coastal Florida Sports Park as the Florida-based home to PROGRAM 15 and New Balance Baseball Future Stars Series events and training camps.
Coastal Florida Sports Park, located on the Central East coast of Florida ten miles from Cocoa Beach, will provide players, teams, and coaches attending PROGRAM 15 and Future Stars Series events an outstanding, one-of-a-kind experience at a facility with a rich history.
PROGRAM 15 Founder, CEO and President of Baseball Operations for The New Balance Baseball Future Stars Series, Jeremy Booth says, "We're ecstatic to find a home in the southeast in a place as dynamic and cutting edge as Coastal Florida Sports Park. Their location, facilities, network, and commitment to excellence and innovation are unrivaled in their area.
Their access to all regions of the east coast and international appeal coupled with the ability to fully accommodate every player's needs in a cost-effective way is exactly what we're looking for. We look forward to their hosting of many events including tournaments, player Identification days, and combines."
The one-time spring training home of the Astros and Marlins has undergone 50 million dollars in renovations and upgrades and includes a 5,000 seat Major League Stadium with clubhouses, 9 additional fields, including 5 MLB size fields. The 35,000 Sq. Ft. Indoor Training Facility has 14 Indoor Batting Cages with 7 ProBatter Video Simulators and up to 12 indoor bullpens.
The on site All-Star Player Resort, which houses up to 84 teams, has a full kitchen and catering service, Rec Hall with two 30′ big screens and six 72″ big screens, 2 Arcades and 50″ big screens in every players suite.
Chris Capozzi, Senior Vice President of Operations for Coastal Florida Sports Park says, "When providing a world class experience for baseball development on our campus, we needed the most dynamic and innovative team we could find to call our state of the art complex home. The choice was simple, PROGRAM 15 is hands down the leader and game changing partner we wanted to work with. We could not be more excited to be the Southeast home for significant events in player identification, tournaments and assessments. Sunny Florida provides year round opportunities for true player development and PROGRAM 15 will be able to impact more players and provide pathways for success that you will not find anywhere else."
To learn more about Coastal Florida Sports Park visit https://coastalfloridasportspark.com
COASTAL FLORIDA SPORTS PARK:
A sports complex to beat all sports complexes, Coastal Florida Sports Park is a place where athletes of all levels can practice and play in facilities fit for the pros and truly improve their ability to compete in the game and move to the next level. The complex was designed and created by the organization's corporate board of directors, owners, employees and staff that is made up of real baseball people, such as D-1 & D-2 head coaches, professional MLB veteran players and many other baseball and softball individuals that have helped to create and shape the Southern United States travel, college and professional baseball and softball industries. Their internal connections and relationships with the MLB, NCAA, NAIA, and JUCO colleges and coaches along with the MLB-style facilities, training center, relationships and events, allows Coastal Florida Sports Park to promote and assist placement of athletes to the NCAA, NAIA and JUCO for college placement like no others can. For more information visit https://coastalfloridasportspark.com or @coastalflsports on Twitter and Instagram.
ABOUT PROGRAM 15:
PROGRAM 15 boasts a faculty and staff that includes multiple Major League All-Stars and World Series veterans responsible for executing the New Balance Baseball Future Stars Series, an initiative between the two organizations to elevate the game of baseball by providing amateur players across all economic levels an opportunity to reach their full potential through the training, development, and guidance of former MLB players, scouts, and coaches. For more information on Program15 and the Future Stars Series, visit www.futurestarsseries.com or @program15bb and @ftrstarsseries on Twitter.
ABOUT NEW BALANCE:
New Balance, headquartered in Boston, MA has the following mission: Demonstrating responsible leadership, we build global brands that athletes are proud to wear, associates are proud to create and communities are proud to host. Manufactured in the U.S. for over 75 years and representing a limited portion of our U.S. sales, New Balance Made U.S. is a premium collection that contains a domestic value of 70% or greater. New Balance owns five factories in New England and one in Flimby, U.K. New Balance employs more than 6,000 associates around the globe, and in 2017 reported worldwide sales of $4 billion. To learn more about New Balance, please visit www.newbalance.com and for the latest press information please visit http://newbalance.newsmarket.com.