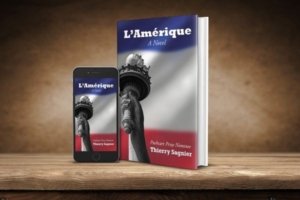 Author and writing coach Thierry Sagnier's historical novel
L'Amérique
hit Amazon.com's bestseller lists on April, climbing all the way to Top 10 in multiple bestseller categories.
Both of Sagnier's recent novels, L'Amérique and Thirst, share common themes of the power of friendship and the urge to survive.
In L'Amérique, we deal with
* Life as seen through a child's eyes
* The importance of family
* One family's persistence in the face of various adversities
* The power of friendship, regardless of national origin
* Some post-war history, both French and USA
* Pharmaceutical drug addiction
L'Amérique portrays the struggle not only of a young boy in a strange new world, but those of a mother, Marité, who has difficulty coping with a lifestyle both foreign and threatening. The book also depicts the father and son's battle to save Marité from the addiction that threatens her life and the family's survival.