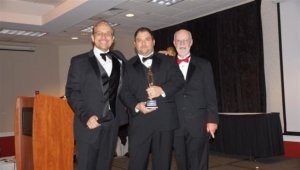 FOR IMMEDIATE RELEASE:
Reno, NV – June 11, 2018: Quality First Home Improvement, Inc.
Quality First Home Improvement, Inc., of Reno, Nevada, has received the most prestigious contractor award GAF offers: The GAF President's Club Award. This highly coveted award recognizes Quality First Home Improvement as one of the "elite of the elite" residential roofing contractors in the United States.
GAF is North America's largest roofing manufacturer, and only GAF Master Elite(R) Contractors can compete for its residential President's Club Award. To qualify for this award, a residential roofing contractor must meet specific criteria in at least one out of three different pathways:
• Performance pathway – where contractors focus on giving their property owners the best possible service, quality, and protection
• Reliability pathway – where the contractor has a long history of offering their customers the best quality and protection
• Service pathway – where contractors consistently offer their customers the best protection available in the marketplace.
Quality First Home Improvement has been a GAF Master Elite(R) Contractor since 2010. To become a Master Elite(R) Contractor–a status that less than 2% of roofing contractors nationwide are able to achieve–a candidate must demonstrate proper licensing (in states that require it), maintain insurance, have a proven reputation, and show commitment to ongoing professional training.
"We value our certified contractors for raising the industry standard year after year by installing the best roofing products and systems. Our President's Club award recognizes only those contractors who have distinguished themselves by the highest standards of excellence, customer satisfaction, and dependability," says Jim Slauson, GAF's VP of Certified Program & Services.
With a name that can be trusted to handle all of its customers' home-improvement needs, Quality First Home Improvement uses highly experienced installation technicians who are specialists in their respective fields of expertise. Ongoing training of the company's sales staff ensures that all personnel are knowledgeable and up-to-date on the best roofing and home-improvement products in the industry.
The company's service offerings are diverse. In the field of exterior improvements, Quality First offers composition and metal roofing options, gutters (aluminum or steel), replacement windows, patio covers, siding (vinyl or fiber cement), concrete removal and replacement, exterior cool-wall coatings and reflective roof coverings, painting, and blown-in attic insulation. Inside the home, the company remodels kitchens and baths, installs new and refaced cabinets, installs granite countertops, and handles all lighting, wood-floor, hardware, and accessory needs.
Quality First Home Improvement holds an A+ accreditation with the Better Business Bureau. The company supplies top warranties, quality products, and personalized service. "Quality First" is not just the company name; "Quality First" is its motto and mission!
About Quality First Home Improvement, Inc.
The Reno satellite office of Quality First Home Improvement provides and installs a variety of home-improvement products for residential clients. The company is a "one-stop shop," with services that include roofing, windows and doors, kitchen and bathroom remodeling, solar energy systems, patios, sunrooms, exterior coatings and siding, heating and ventilation, insulation, and gutters. With highly trained staff and expert installers, Quality First Home Improvement stands ready to help customers with exterior and interior home services in the Reno area and in the Sacramento region and Bay Area in California.
Quality First Home Improvement
4840 Mill St., Suite 1
Reno, NV 89502
Toll-free: (877) 916-1788
http://www.qualityfirsthome.com
Facebook: https://www.facebook.com/qualityfirsthomeimprovement
Twitter: http://twitter.com/Quality1stHome
YouTube channel: http://www.youtube.com/user/Quality1stHome
About GAF:
Founded in 1886, GAF is the leading roofing and waterproofing manufacturer in North America. As a member of the Standard Industries family of companies, GAF is part of the largest roofing and waterproofing business in the world. The company's products include a comprehensive portfolio of roofing and waterproofing solutions for residential and commercial properties as well as for civil engineering applications. The full GAF portfolio of solutions is supported by an extensive national network of factory-certified contractors. GAF continues to be the leader in quality and offers comprehensive warranty protection on its products and systems. The company's success is driven by a commitment to empowering its people to deliver advanced quality and purposeful innovation. For more information about GAF, visit http://www.gaf.com