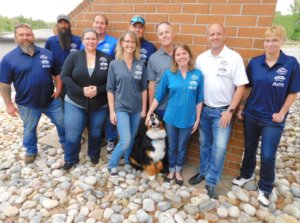 FOR IMMEDIATE RELEASE:
Sheridan, CO – June 1, 2018: R3NG LLC
R3NG LLC of Sheridan, Colorado, has received the most prestigious contractor award GAF offers: The GAF President's Club Award. This highly coveted award recognizes R3NG as one of the "elite of the elite" residential roofing contractors in the United States.
GAF is North America's largest roofing manufacturer, and only GAF Master Elite(R) Contractors can compete for its residential President's Club Award. To qualify for this award, a residential roofing contractor must meet specific criteria in at least one out of three different pathways:
• Performance pathway – where contractors focus on giving their property owners the best possible service, quality, and protection
• Reliability pathway – where the contractor has a long history of offering their customers the best quality and protection
• Service pathway – where contractors consistently offer their customers the best protection available in the marketplace.
To become a Master Elite(R) Contractor–a status that less than 2% of roofing contractors nationwide are able to achieve–a candidate must demonstrate proper licensing (in states that require it), maintain insurance, have a proven reputation, and show commitment to ongoing professional training.
"We value our certified contractors for raising the industry standard year after year by installing the best roofing products and systems. Our President's Club award recognizes only those contractors who have distinguished themselves by the highest standards of excellence, customer satisfaction, and dependability," says Jim Slauson, GAF's VP of Certified Program & Services.
R3NG is also recognized as one of only 20 Premium System Professionals nationwide. It has demonstrated excellence in understanding current and historical architectural styles in housing design to help homeowners find the right product choices for their homes. R3NG has extensive experience installing distinctive roofing systems, including Timberline(R) American Harvest(R), Value Collection Lifetime Designer, Timberline(R) Ultra HD(R), and Ultra-Premium Collection Lifetime Designer Shingles. Products and services offered by Premium System Professionals add to the curb appeal desired by discerning property owners.
At R3NG, the team of knowledgeable professionals has the expertise to install or replace customers' roofs in a timely manner. Experienced installation crews are fully trained in every aspect of roofing applications. The company provides roof repairs, rejuvenation coatings, skylight installations, fabrication of custom-designed chimney caps, and flashing and counter-flashing installations.
"We specialize in providing solutions for commercial property managers, HOA-managed multi-family structures, single-family communities, REO rehabilitation, apartment industries, and government housing entities," according to general manager Jason Domecq. "R3NG has an in-house investigation and repair division that specializes in large HOA and commercial property projects."
Customers hire R3NG because it provides opportunities for minimizing costs and maximizing property values. "We're straightforward with clients," adds Domecq. "By providing quality-minded service, performed by experienced and knowledgeable people, we get the job done precisely the first time around." He adds: "Our team fills a void in the expansive needs of common-interest communities, ranging from new developments with construction-defect issues, to mature properties requiring drainage modifications, and individual properties requiring limited common-element rehabs, including rooftops, concrete, and coatings."
The R3NG team has participated in or been involved with numerous charitable funds and events, including Judi's House, Hammers & Angels, Boulder Bolder, and Community School fundraisers. A winner of GAF's Triple Excellence Award (for consumer protection, installation, and training), the company has an A+ rating with the Better Business Bureau. R3NG can offer GAF's WellRoof(R) Guarantee Extension to customers who establish an annual inspection and preventative maintenance program.
There are new service offerings at R3NG. "Our company now has the ability to provide roofing and coating maintenance programs," explains Domecq, "which is something our clients have been looking for." Going forward, the company anticipates continued future growth. Domecq concludes: "We want to succeed with our current clients but also grow, develop, and learn with potential new clients."
About R3NG LLC
R3NG is the roofing division of Community Preservation & Management (CP&M), a full-service general contractor and construction management, maintenance, and preservation company. As a licensed roof contractor in Denver, Aurora, and the surrounding Colorado community, R3NG takes a customer-oriented approach to its residential and commercial roofing clients. The company's ambition is to be genuine and straightforward with its clients, working with respect to their needs and budgets.
R3NG
1500 W Hampden Ave., Ste 3H
Sheridan, CO 80110
(720) 407-6122
https://www.R3NG.com
About GAF:
Founded in 1886, GAF is the leading roofing and waterproofing manufacturer in North America. As a member of the Standard Industries family of companies, GAF is part of the largest roofing and waterproofing business in the world. The company's products include a comprehensive portfolio of roofing and waterproofing solutions for residential and commercial properties as well as for civil engineering applications. The full GAF portfolio of solutions is supported by an extensive national network of factory-certified contractors. GAF continues to be the leader in quality and offers comprehensive warranty protection on its products and systems. The company's success is driven by a commitment to empowering its people to deliver advanced quality and purposeful innovation. For more information about GAF, visit http://www.gaf.com