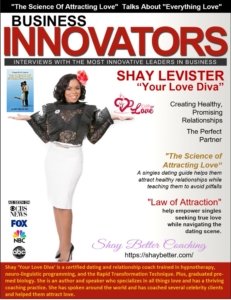 Shay Levister is not just a coach but a certified dating & relationship coach
and NLP, RTT practitioner. What this means is that Shay was trained and has studied a method that will help you achieve lasting results in the shortest amount of time possible. She is also trained in hypnotherapy, which will amplify results in her clients. All humans make over 80% of their decisions from their subconscious mind. This is the reason why you may find yourself choosing the same type of person with a different face. If you want a change in your life, you must change the programming in your mind. Once you are able to do this, nothing is impossible! Hypnotherapy, NLP, and positive mind techniques help to accomplish this.
Levister has published magazine articles and has been a guest on radio and television shows. She has spoken around the world and has coached several celebrity clients and helped them attract love.
As a #1 best-selling author on Amazon for her book, The Science of Attracting Love, Shay 'Your Love Diva' Levister shares her journey and the lessons she has learned with you and gives advice mixed with old school rules, the science of human behavior, and the Law of Attraction to help empower singles seeking true love, while navigating the dating scene.
"The Science of Attracting Love" is the first dating advice book to provide the science behind the advice while presenting it from a positive-energy point of view. The world of singles needs a metaphysical dating guide that helps single women attract healthy relationships while guiding them to avoid pitfalls.
Shay Levister, also known as "Shay Your Love Diva" to her fans, considers her most rewarding titles to be "wife" and "mom." Shay is happily married with four kids, to her high school sweetheart. Shay first met her husband-to-be when she was 14 years old; however, they lost contact for several years after she graduated from college, and he left for the Airforce. After experiencing the worst relationship failures and disappointments that included a divorce and a half, Shay decided it was time to follow her own advice and get whole. After months of counseling and self-healing, she serendipitously ran into her childhood best friend and first love. Eventually, their relationship blossomed into more than a friendship, and it has been a magical love experience ever since. They love date nights every Friday night, making lasting memories while traveling the world with their four children, and building a powerful empire together.
"Your Journey To Love Begins Today!" This is the Shay Better Coaching difference!
• Fast Results with NO WASTED TIME – Transforming your love life should not take forever! Shay has a strong track record for getting positive results with her clients within months.
• EFFICIENCY – Using neuro-linguistic programming, guided meditation, and positive mind techniques, Shay can help you heal old, damaging, long-lasting wounds, and help you move forward towards attracting healthy life experiences.
• LONG-TERM RESULTS – Shay provides coaching that is meant to last. Her methods utilize more than intellectual reasoning. She works on your subconscious mind so that you automatically magnetize the love you desire.
• GUARANTEE – Shay Better Coaching is the ONLY firm that offers a guarantee on their services. If you are not completely satisfied after following Shay's coaching suggestions, you are entitled to a refund.
• UNIQUE CLIENTS – Shay Levister has extensive experience working with successful clients that range from single executives and professionals to affluent business owners and celebrities, who desire a skilled coach who will address and meet their unique needs.
• PRIVACY – No matter your status, you are never judged, and your information will NEVER be shared.
Shay's 5-Step Relationship Coaching Program:
Shay Your Date Diva's 5 step program is designed to empower you with the direction, training, and accountability you need to achieve the consistent results you demand in your love life. Shay has coached people all around the world who have created lasting, passionate relationships.
• Shay will help measure, monitor, manage, and support you to ensure that you keep your word to yourself, and take the consistent action that leads to the results you desire most.
• You are about to enter a partnership that will give you the edge you need to stand out in the dating game, but you must step up as well. Commit with a passion and a focus that your love life deserves. Shay will bring you extraordinary resources for powerfully improving the quality of your love life. Then, you can attract and truly experience the love experience most people dream of having.
• She promises an experience that will not only stretch you, but that will be more fun than you have ever imagined possible. She doesn't pretend that your partnership will be effortless—but it will be extraordinarily rewarding.
Book an appointment today at https://shaybetter.com/and transform your love life into one you always dreamed of having.