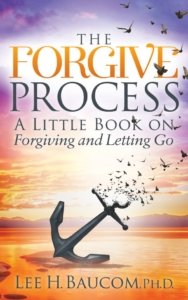 Morgan James's new release, The Forgive Process: A Little Book on Forgiving and Letting Go by Lee H. Baucom Ph.D., provides readers with a six-step plan for letting go of past grievances and finding peace.
Forgiveness is a universally acknowledged step in any healing process. The Bible and other holy books talk endlessly about the topic. Psychologists work through it with their patients. It's even one of the steps in the twelve-step sobriety program. For those who find forgiveness easier said than done, Lee Baucom has presented six-steps to overcoming anger and moving on in The Forgive Process.
Hurts and grievances are one of the unfortunate side effects of human relationships. Everyone faces them, and those who don't find a way to let go are held captive by their pain. In The Forgive Process, Baucom guides readers to first decide to forgive, then to muster the empathy to do so, and ultimately to let go of the memory of wrongdoing. He addresses important questions, such as "Are some things unforgivable?", "Why should I forgive?", demonstrating the importance of forgiveness for long-term personal healing and peace. Beyond that, Baucom confronts some of the common myths surrounding forgiveness and provides a clear alternate understanding of the topic.
Many books broach the topic of forgiveness from a religious point of view. The Forgive Process is unique in that it is not based on religious principles, thus providing a guided path to healing for people of all faiths and backgrounds. For anyone looking to let go of the wrongs they have experienced, The Forgive Processoffers a clear, simple method for moving on.
If you would like more information about this topic, or to schedule an interview with Lee H. Baucom Ph.D., please call Nickcole Watkins at 516.900.5674.
About the Author:
Lee Baucom is a Thriveologist, studying and teaching how to thrive in life. As a coach and consultant, Dr. Baucom helps individuals and organizations move beyond "survival mode" on the path to thriving. The author of several books, including Thrive Principlesand The Immutable Laws of Living, Dr. Baucom is also the host of two podcasts. He is co-principal of Impact Coaching Academy and currently resides in Louisville, KY.
More About This Title:
The Forgive Process: A Little Book on Forgiving and Letting Go by Lee H. Baucom Ph.D., will be released by Morgan James Publishing on October 9, 2018. The Forgive Process—ISBN 978-1683508977—has 142 pages and is being sold as a trade paperback for $14.95.
Learn more at: http://TheForgiveProcess.com
About Morgan James Publishing:
Morgan James publishes trade quality titles designed to educate, encourage, inspire, or entertain readers with current, consistent, relevant topics that are available everywhere books are sold.