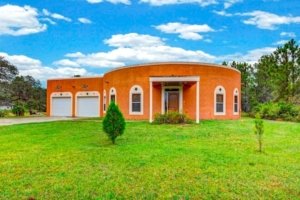 Special "Finds…" is a marketing and advertising agency for selling unique properties. The firm specializes in helping owners of unique homes and estate properties get their properties exposed to buyers and sold. The agency uses innovative marketing techniques along with mass-market advertising campaigns to gain wide exposure and reach potential buyers for one-of-a-kind properties.
The owner of a unique round home in Myakka, Florida (35 minutes from Bradenton) has retained Special "Finds…" to develop and execute a marketing and advertising program to attract buyers for the unique property. Round homes are very rare in the United States and this 2,200 square foot circular home has been finished to a high level and includes a dome-ceiling great room that's designed for entertaining. The gated property includes 5.3 acres of land and a stocked pond. The round design reduces exterior surface area coming into contact with excessive heat, thus reducing utility bills. The curved exterior has been artfully designed to withstand winds up to 200 miles per hour.
The Special "Finds…" marketing campaign is customized for each property, including a "property story" written from the house's perspective. The house is brought to life and buyers are emotionally transported through the property from wherever they are as they read the story. Buyers can feel what it's like to live in the house and on the grounds.
Each home is then placed on the Special "Finds…" website, which has a national and international following of unique property buyers. All pages are translated into the language of the reader. Price dependent, the property gets full-page ads in digital editions of the New York Times, Wall Street Journal, Robb Report, Mansion Global, duPont Registry, as well as in over 120 international sites in Asia, Europe, and the Middle East. An HD video tour and Google Earth video fly-over are also created and used on LinkedIn, YouTube, Facebook, and other social media sites.
Brenda Thompson, Special "Finds…" Founder, President, and CEO, was the Director of Marketing at the New York Stock Exchange before entering the real estate industry. She founded Special "Finds…" in 1995 and has focused exclusively on marketing unique properties with a creative approach since she founded the firm.
Special "Finds…" is a professional marketing and advertising agency for selling unique properties. Headquartered in North Carolina, Special "Finds…" develops and executes marketing and advertising campaigns for unusual properties throughout the United States and around the world. The agency is also a licensed real estate firm in North Carolina and Pennsylvania and represents buyers and sellers with their unique property transactions in those states. For more information, visit http://SpecialFinds.com.