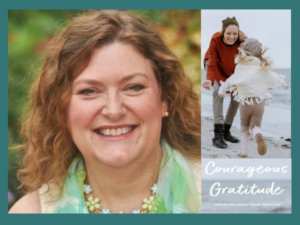 In a recent survey on what moms want, the overwhelming response was rest and relaxation. Moms are bombarded by endless stress that drains their resources and threatens their health and happiness.
And the emotional, physical and relationship load of mounting stress on moms can be felt by both mother and child.
In her new book, Courageous Gratitude: Celebrate Your Journey through Motherhood, author and professional counselor, Deborah Woods offers a way to reduce some of this stress. She does so by providing a fresh perspective on the refreshing nature of gratitude.
Courageous Gratitude is a delightfully easy read with beautiful photos and writing prompts offered as a 40-day journey. It is aimed at easing some of the burden that is often present in parenting.
In it, Woods vulnerably shares her own experiences as a mom raising a son with special needs.
But she doesn't stop there. Woods also engages the reader in a series of questions to encourage moms to reflect on and share their own journeys – first as child and then later as parent.