When former college athletics advisor Andrew Smith sat down in front of his TV, his wife, Angela, was intrigued by his choice of entertainment. Smith had pulled out an old DVD containing highlights of the Mount St. Mary's collegiate basketball NEC season, 2010-2011. 
Angela was curious, considering he had no interest in the sport outside of advising young college athletes as they make their transition into post-academic careers. On the television, they see a staggering 6'8″ forward making his rounds on the court.
"He's pretty good," say's Angela, "is he playing in the NBA now"?
"He's not," says Smith with an intrigued smile, "I'm meeting with him tomorrow to go over our retirement portfolio."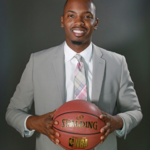 Perhaps in another world, such a statement by Smith would be met with an elevated level of scrutiny. In this case, however, the former collegiate athlete on their living room TV was precisely the person they needed to speak with.
The young athlete on the TV wasn't just another college basketball star; he was Tayvon Jackson, author, public speaker, and financial advisor.
While Jackson's days on the court are no more, he inspires a different set of fans through his books, lectures, and activism for financial literacy. 
As an athlete, Jackson realized he needed a plan B if his plans to make it into the NBA didn't pan out. If he were not going to be a player in the NBA, he would be the guy who made sure players spent their money wisely. To put his plan into motion, Jackson triple-majored in Math, Business, and Information Systems, with a minor in accounting. This combination would later ensure he had a stable career in the financial industry, and soon after finishing college, he went to do just that.
Jackson is now a financial advisor for New Perspective Wealth Management, where he meets and advises clients from all wakes of life. Jackson takes a comprehensive approach with his services, focusing on root issues rather than quick-fix solutions. Jackson's targeted strategies focus on big picture societal issues, such as the lack of financial literacy amongst high-school students and the lack of affordable financial advisory services to working-class individuals.
Jackson's goal is to educate and transform on a societal level, stressing the importance of financial literacy, particularly within the African American community. His clients include retirees like the Smith's, families coping with the recent pandemic, young professionals who need financial guidance, and even, in some cases, young entrepreneurs like his seven-year-old goddaughter.
His approach with his clients revolves around their innate understanding of obscure topics. He uses his goddaughter as a prime example of how he effectuates complex information to those who do not have strong financial backgrounds.
"I remember explaining to her [my goddaughter] about LLCs, budgeting, and crafting a financial plan. Then I remembered she was only seven, so I had to keep it simple. She grasped the concepts immediately. That's the approach I take with my clients. Not everyone is a financial expert, so I need to explain relatively complex concepts in a way they can not only understand but also actively pursue." – Tayvon Jackson
Since he has ventured into this seemingly alternate career path, Jackson has helped numerous individuals through his lectures, books, and personal advisory services. We often define heroes as those who are salient in our minds, not necessarily those who create the most impact in others' lives. 
While Jackson may have opted towards the less salient career path, the quality of the impact he has made, unarguably, transcends the boundaries of what society would typically acknowledge.
"While young children may look up to NBA stars, young adults look up to those who create positive change within their communities." – Andrew Smith
Jackson has authored several best-selling books, including "Poor Dad, No Dad," "40 Acres and Some Dividends", "ATM Life," and more. You can learn more about Jackson on his website and follow him on LinkedIn or Instagram.