*NOTE: Photos herein were taken PRE-COVID, so images may show participants in close distance. TODAY, all social distancing, recommended guidelines and protocols are being practiced.
It's no secret that kids are facing new challenges due to social distancing and the removal of P.E. classes from schools. Matthew Kuschert and Ricardo Lamas know this firsthand, as owners of UFC Gym Naperville and parents of young children.
Their dreams of creating a welcoming, family-friendly gym are now a reality and they are committed to offering a number of youth classes to keep our kids healthy during this unprecedented time.
Q: The elimination of school PE classes and switch to Virtual Learning are affecting our children. What are the consequences of these changes?
Matt Kuschert and Ricardo Lamas: Kids need a safe and fun outlet to release energy and socialize with other children. Without physical education classes being offered at their schools, children are being deprived of necessary cardiovascular and musculoskeletal activity to boost their immune response.
The American Association of Pediatrics stresses that it is absolutely paramount for children to engage in daily physical activity. To that point, a number of parents have expressed that their children are having trouble with pent up energy and corresponding issues, due to lack of activity. This has been an ongoing problem for several months, as many camps, clubs, sports, etc. were also cancelled throughout the summer. Now that the school year is underway and physical education has been placed on the back burner, parents are constantly messaging us seeking solutions. Their children aren't getting adequate activity in their lives and it is resulting in challenging situations with discipline, weight gain, depression, anxiety and sleep patterns, among many others.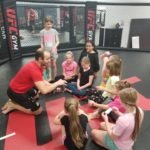 Q: Could you explain some of the benefits and advantages of providing kids with safe physical activities?
Matt Kuschert and Ricardo Lamas: The American Academy of Pediatrics represents over 67,000 physicians. They are firm supporters of physical activity for children and teens. They contend that, "Physical activity plays an important role in children's cardiovascular health, musculoskeletal health, mental and behavioral health, and physical, social and cognitive development." Naturally, the Covid19 pandemic has had a significant negative effect on the aforementioned areas of child development. At Ricardo Lamas' UFC GYM in Naperville, we put safe activities for children at the forefront. As parents of young children ourselves, we take this very seriously and believe it is critical for their development. We are committed to providing a fun, safe, and fruitful environment for children.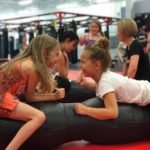 Q: What is your gym doing to help parents combat these challenges?
Matt Kuschert and Ricardo Lamas: We offer a variety of youth classes for ages 4 and beyond. These include functional training, conditioning, fundamentals of striking, grappling and strength training. Small group training for 4-6 individuals as well as 1:1 training are also popular options for children. We run sport specific camps throughout the year to hone in on distinct skill sets. Our coaches are skilled in working with the youth, including children with physical and developmental disabilities, beginners, elite level athletes and everyone in between. Everyone is welcome, as we believe all people benefit from physical activity in a supportive environment. The number of parents that have praised the physical and emotional results of our programs for their children has been extremely rewarding. Children will be challenged, resulting in the corresponding confidence that comes from achievement and learning new techniques to live a healthy lifestyle. Whether it be interest in learning new ways to train, learning martial arts, losing weight, or any other physical fitness goal, we develop individualized plans to help children live better, healthier lives.
Q: What do you feel are the biggest myths out there when it comes to providing kids with safe physical activities that give them the fitness and socialization they need?
Matt Kuschert and Ricardo Lamas: One of the myths we hear often today is that "gyms are not safe when it comes to the spread of Covid19." Our gym has a great reputation of being impeccably clean. We pride ourselves on providing a safe environment which includes clean equipment, workout spaces, restrooms and locker rooms. We have added additional cleaning stations and all equipment is wiped down after each use. We run everything in accordance with the standards of the Illinois Department of Public Health (ILDPH). Each piece of equipment is spaced accordingly and when engaging in any close quarter training, we are following the guidelines set forth by the ILDPH. The safety of our members is priority number one, followed closely by providing a great experience for everyone to naturally boost their immune systems, enhance cardiovascular ability, behavioral and mental health. Everyone feels better after a great workout!
According to a Harvard University study in April 2020, "just like a healthy diet, exercise can contribute to general good health and therefore to a healthy immune system. It may contribute even more directly by promoting good circulation, which allows the cells and substances of the immune system to move through the body freely and do their job efficiently." It is critical that children have a safe and fun way to engage in physical activity. The benefits are well documented and the absence of a sound way to engage in physical activity has profound negative effects on physical and mental health. This is a primary reason why elementary, middle and high schools have offered physical fitness and kinetic wellness classes for decades. The negative results of stripping this from the curriculum cannot be overstated.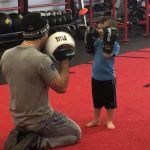 Q: What are some common misconceptions parents have about providing kids with safe physical activities that give them the fitness and socialization they need?
Matt Kuschert and Ricardo Lamas: We feel most parents are aligned with the notion that physical fitness coupled with a healthy diet are important to the health and wellness of their children. Rather than misconceptions about the benefits, they may not know the specific value and outcomes that a strong program will provide. Again, the American Academy of Pediatrics is very firm on the fact that children must engage in physical activities, games, sports, and the like to develop cardiovascular health, muscle strength and endurance, mental and emotional well-being and the corresponding socialization that comes with group activities.