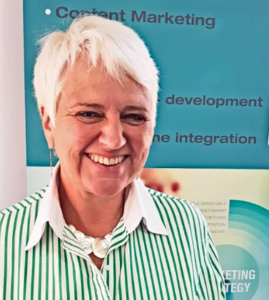 In this interview, digital marketing agency Director and Author of 'Create, Work, Earn', Vivienne K Neale, talks on the rise of self-employment and how freelancers can build a sustainable business around both their skills and passions.
I spoke with Vivienne recently to learn more about her mission to show freelancers how to create and sustain a thriving business.
Kerri L Watt: Vivienne, welcome! Let's start with self-employment. It is said that 15% of our workforce in the UK is self-employed. Does that surprise you?
Vivienne K Neale: After doing a lot of research to write the book I found that whilst some information was dated, the contribution of freelancers to the UK economy was said to be around £119b. When you consider that freelancers still find it difficult to get mortgages and business loans I find that quite extraordinary. I believe financial houses and other important people need to recognize just how significant this shift in the way we work actually is. 
Kerri L Watt: You mentioned getting mortgages and loans, this is a huge topic of conversation within my social circle. We actually earn more than we did when we were in full-time jobs but because it's not technically a regular salary job, we struggle to get a mortgage and it's crazy.
Vivienne K Neale: Think about it, if you had to find money quickly, who would you put your bets on? I put it on freelancers because at the beginning of every month they say "I've got this to bring in, ok I better get out and do it." Whereas, you can get complacent when you are a salary slave and the expectation is you know year in year out, what you will earn. Even now I still don't know exactly what's going to come in this particular month but that then spurs me on and I believe it does for other people too. 
Kerri L Watt: What would you say is the biggest misconception or myth that people have about going to self-employed? 
Vivienne K Neale: There's a lot of fear. In the past, the only people we imagined would be self-employed were builders and plumbers and that type of work so if you were working in something different, you'd think there wasn't an opportunity for you. But of course, the rise of the Internet means there are so many of us that work online and we can work with people all around the world.
I remember writing in my journal if only I could earn my living through my creativity. It kept coming up again and again and again. Everyone said to me, "You have so many ideas, you're so creative, if we need something, you're the person to ask." I kept thinking, there must be a way to make money from this but I too was really afraid. It was only through a dire situation that I ended up leaping and hoping that the net would appear.
I think there's the idea that you won't know what's going to happen from one week to the next and some people find that that sort of new way of living is out of their reach. People, especially youngsters, are realising they have skills and multiple platforms to access this new way of working. Interestingly though, the average age of a freelancer is 47.
Kerri L Watt: What was the driving force that led you to create the book 'Create, Work, Earn'? 
Vivienne K Neale: I've been out there since 2011 and I've seen tremendous growth. Not only in myself, but in freelancing in general. I wanted to bottle my experience together and create the kind of book I wish there had been when I first started. 'Create, Work, Earn' looks at the freelance economy, it explores some of the freelancing sites that you can use to sell your wares on. It also dives into social media, branding, marketing and all the things you have to get involved with when you're running your own business. There are 20 case studies outlining other people's journeys too so readers hear from a number of people. That's the really exciting aspect of the book. 
Kerri L Watt: Why did you decide to first go freelance yourself?
Vivienne K Neale: I was working in a temporary role and one Monday I went into hospital to have a major operation. Within a really short space of time, I realised I couldn't pay my rent. My friends scooped me up and encouraged me to stay with them and reassess my next step. Another friend suggested I sell my writing skills on a freelance platform. I remember thinking "who would ever want to buy anything from me?" I realised, if you don't try, you'll never know. So I did it and literally within hours I had sold my first piece of work. It was for £6 I knew I needed to develop a portfolio. If I hadn't tried it and taken a chance, if I hadn't ignored the Imposter Syndrome thoughts, I don't know what I would have done. 
Kerri L Watt: I've read a few autobiographies of super famous people and that feeling stays with you. No matter the level of success you get, the feeling of feeling like an imposter crops up every time you try to uplevel.
Vivienne K Neale: It absolutely does.
Kerri L Watt: What would you say are the top advantages for people who do choose self-employment? 
Vivienne K Neale: You have a lot more control and you can eventually pick and choose the kind of people you want to work with and the kind of contracts you want to work on. You are able to follow your own timetable. You need to be available within office hours but if the suns shining and you want to go to the beach then you can come back and pick up the work in the evening. 
Kerri L Watt: I love self-employment. You can take it wherever you want to go. If you want to earn a certain amount of money, you want a different lifestyle or you want to go full-on Richard Branson, you can do whatever you want because you have that freedom.
Vivienne K Neale
: Definitely. You can make the decision whether you know you are purely money orientated or want to have a huge list of clients. You decide the way you live your life and what is really important. Personally, I want to fit my work around some of my interests or my ideas or my principles. It is all there for the taking.