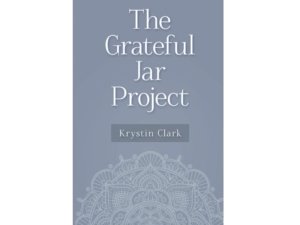 Krystin Clark didn't set out to write a book. She simply embarked on a curious experiment dubbed 'The Grateful Jar Project'. The premise was simple. Would life be any different if she committed to focusing on gratitude every single day, for one year, no matter what?
Having participated in various means of gratitude practices over the years, Clark knew the benefits but recognized the limitations, saying, "a daily gratitude practice was like a student driver learning to drive a standard transmission. It starts out with great hope and gusto, followed by many awkward seizing lunges and the inevitable embarrassing stall".
On Winter Solstice, December 21, 2015, Clark committed to one year of finding three things from each day she was grateful for. Every day for one whole year, she would write own three things she was grateful for, and place the paper in her Grateful Jar. Why Winter Solstice? She saw her commitment to The Grateful Jar Project as her own personal investment in the return of the light amid the annual descent into darkness.
Clark was not a "typical writer." (Whatever that is.) She was simply a woman on a soulful journey with a jar. But having shared her experiment amongst her peers on social media, and repeatedly receiving enthusiastic feedback about her writing, she started to realize, "this is a book!"
The Grateful Jar Project doesn't philosophize an attitude of gratitude. Moving beyond theory, it vulnerably demonstrates the navigation of a painful year; a year that included the author's long-term employment abruptly coming to an end, the fallout from some questionable personal choices, and being caught in the rental housing crisis for six months. The reader joins Clark and her Little Roommates (affectionately dubbed the Ocean of Estrogen) in a turbulent (and sometimes hilarious) year of dramatic change and profound redirection.
The Grateful Jar Project launched on September 18, 2018 and almost immediately became a best seller in several categories on Amazon.
The Grateful Jar is available on Amazon at https://www.amazon.com/dp/1988925096
About Krystin Clark
An independent parent for the past decade, Krystin Clark is a Life Coaching and Counselling graduate of Rhodes Wellness College. An ordained metaphysical minister, life celebrant and member of the Canadian International Metaphysical Ministry, a mystic maker and creatrix of the original pyrographed Spirit Spoons. She is the founder of Kaleidoscope Centre for Soulful Shifts supporting individuals to refocus the perspectives of their soulful kaleidoscopes.
Learn more about Krystin Clark: http://krystinclark.ca