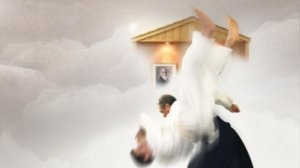 To anyone unfamiliar with Aikido, the pairing by Jerry Zimmerman from Aikido North Jersey of martial arts and moving beyond domestic violence might seem like odd bedfellows. But to Aikido practioners (called aikidoka), it makes perfect sense.
After all, Aikido is often translated to mean unifying life energy. And at it's core, it is a method of self-defense that calls the practitioner to not only protect herself but also to restore peace into the world.
Unlike other martial arts that focus on kicks and punches, the Aikido practioner is charged with something quite different than reacting to an attack. Instead, the aikidoka looks to move beyond the attack to the next step … one steeped in motion, centering and the pursuit of peace and harmony.
In this way, the choice by Jerry Zimmerman of Aikido North Jersey to gather with other instructors (called Sensei) to support the Center for Hope and Safety's rebuilding beyond domestic violence is pure brilliance.
Aikido brings the perfect blend of pursuing peace, restoring harmony and providing for centering that stands in stark contrast to the painful absence of these in domestic violence situations.
And moving beyond the next step is central to both Aikido and the journey walked by recipients of the Center's services. In doing so, Sensei Zimmerman unites the tenets of Aikido with the mission of the Center, calling upon ways to move both to a place beyond.
The Benefit will be offered in the style of Aikido classes. Each of the Instructors is generously donating their time and skills to this cause.
Joining Sensei Zimmerman of Aikido North Jersey are other Aikido masters: Michael McNally of Hoboken Aikikai, Gordon Wormser of Aikido of Park Slope, Paul Manogue of Aikido of Raritan Valley, and Connie Truemper of Aikido Schools of NJ.
These Instructors will be joining Sensei Zimmerman to provide classes from 1:00 to 5:30 p.m. on Saturday, June 2, 2018. Following the classes will be a catered dinner.
Donations realized from the instruction and dinner will be donated to the Center for Hope and Safety NJ. This supports the Center's efforts to provide an Emergency Hotline, an Emergency Center, education on financial sufficiency, legal support, children services and more.
All activities will be held at Aikido North Jersey at 219 Degraw Avenue, Teaneck, NJ.
The event is the 8th such Rhona Smiles Benefit that Jerry Zimmerman and Aikido North Jersey have provided. Honoring the memory of Rhona Smiles, Sensei Zimmerman's late wife, the Benefit seeks to touch the lives and ease the journey for those seeking the umbrella of services women and children impacted by domestic violence seek.
Aikido North Jersey provides a wide range of classes and instruction for both children and adults. Bringing a modern touch to this ancient tradition, Aikido North Jersey values the warm, friendly and inviting Dojo it has created and the supportive atmosphere from those who call this Dojo home.
The 8th Annual Rhona Smiles Benefit this Saturday, June 2 from 1:00 p.m. to 5:30 p.m. and the catered dinner immediately following is just one of the many ways Aikido North Jersey gives to the broader community.
Get more information by going to: http://aikidonj.com/events
Or reach out to Sensei Zimmerman at: jzjzart@gmail.com
Location Info:
Aikido North Jersey
219 Degraw Ave, Teaneck, NJ 07666
(201) 992-3013