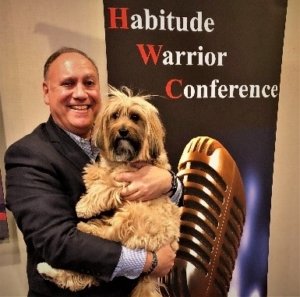 Stern teaches how to "Make Success A New Habit" at Habitude Warrior Conference!
Learn from famous International Speakers, World-Class Leaders, and N.Y. Times Best-Selling Authors who grace the stage for an all 'Ted Talk Style' conference during Habitude's 3-day summit. It is time for your breakthrough!
In San Diego, California – April 25, 26, 27, 2019, Located at the Wyndham Bayside at 1355 N Harbor Dr, 92101
Stern is known as "America's Startup Success Expert" and has more than 25 years of experience as a founder and hyper-growth agent for companies across industries including Constant Contact. As a primary member of Constant Contact's founding team, he was one of the original three who started the company in an attic. Stern was with the company for 18 years from start-up to IPO, to a $1.1 Billion-dollar acquisition.
Today, as Managing Partner and Co-Founder of international shipping and logistics provider, Point2Point Global, he defines, "The company's vision, mission, and strategy to provide innovative, customized, international mail and eCommerce logistics services to customers while actively pursuing opportunities for expansion via strategic partnerships and acquisitions."
Stern also, performs hundreds of keynotes addresses Worldwide. He has become known as "America's Startup Success Expert" for his popular sessions at conferences like Secret Knock, Powerteam International, City Summit and Habitude Warrior. This year Stern is the Keynote speaker at three out of the top five "Inc. Magazine Can't-Miss Conferences for Startups and Entrepreneurs in 2019". While on tour, Alec has shared the stage with the likes of Ashton Kutcher, Jack Canfield, Mark Victor Hanson, and Kevin Harrington.
Stern is an angel investor in several rising startups in various industries. He advises a variety of early-stage companies and serves as a judge, mentor and advisor for nationally known startup accelerators and programs including TechStars, MassChallenge, MIT Start Smart, Lean Startup Challenge, the Stevie Awards, the United Way Youth Venture and speaks at Universities including Harvard and MIT. But his talent doesn't end there! Stern is also an accomplished drummer and has had the honor of sitting in with several musicians including Toby Keith's house band in Las Vegas.
Habitude Warrior Conference San Diego 2019
Stern and Habitude Warrior Conference host Erik "Mr. Awesome" Swanson have shared stages all over the U.S. for many years. In the past four years, Stern has been a frequent Keynote Speaker of Habitude Warrior Events, collaborating with Swanson to help people achieve their most important business and personal goals. "It's very rewarding to speak to so many individuals, start-ups and small businesses, hear their challenges, share my experience and work together to help them take their business to the next level," says Stern.
Here are some other ways that Stern is adding value and his expertise to this event:
Women's Empowerment Panel: Stern has also taken the lead on bringing Women Empowerment Panels to the event which gives both established and up and coming female speakers an opportunity to share their insights, stories, and experiences with the audiences. Stern will moderate the panel which will include female leaders and motivational speakers from the Habitude Warriors Speakers, staff and audience. This panel has been the first opportunity for some of the women to be on stage, and many past panelists have gone on to write books, start blogs, speak and carry their messages forward in powerful new ways.
Junior Habitude Warrior: Stern will be one of the experts who will speak to Junior Habitude Warriors ages 7 to 17 in what he calls one of the highlights of the conference. Stern and other experts will work with the kids to help them build confidence, self-awareness, identity and leadership skills to establish a foundation for their future success. Each child will walk away from this fantastic 1-day conference with a Junior Habitude Warrior Certificate of Completion and the skills and inspiration to realize their dreams.
Don't miss out! There are a limited number of friends and family tickets available for the upcoming Habitude Warrior Conference in San Diego, April 25, 26, 27 via http://habitudewarriorconference.com/friends.
For more information about Alec Stern go to https://www.linkedin.com/in/alecstern.