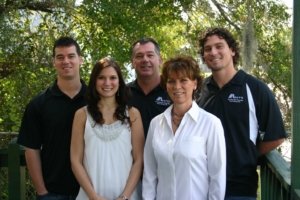 FOR IMMEDIATE RELEASE:
Tarpon Springs, FL – June 19, 2018: Arry's Roofing Services, Inc.
Arry's Roofing Services, Inc., of Tarpon Springs, Florida, has received the most prestigious contractor award GAF offers: The GAF President's Club Award. This highly coveted award recognizes Arry's Roofing Services as one of the "elite of the elite" residential roofing contractors in the United States.
GAF is North America's largest roofing manufacturer, and only GAF Master Elite(R) Contractors can compete for its residential President's Club Award. To qualify for this award, a residential roofing contractor must meet specific criteria in at least one out of three different pathways:
• Performance pathway – where contractors focus on giving their property owners the best possible service, quality, and protection
• Reliability pathway – where the contractor has a long history of offering their customers the best quality and protection
• Service pathway – where contractors consistently offer their customers the best protection available in the marketplace.
Arry's Roofing Services has been a GAF Master Elite(R) Contractor since 1998. To become a Master Elite(R) Contractor–a status that less than 2% of roofing contractors nationwide are able to achieve–a candidate must demonstrate proper licensing, maintain insurance (in states that require it), have a proven reputation, and show commitment to ongoing professional training.
"We value our certified contractors for raising the industry standard year after year by installing the best roofing products and systems. Our President's Club award recognizes only those contractors who have distinguished themselves by the highest standards of excellence, customer satisfaction, and dependability," says Jim Slauson, GAF's VP of Certified Program & Services.
Arry's Roofing Services is also recognized as one of only 20 Premium System Professionals nationwide. It has demonstrated excellence in understanding current and historical architectural styles in housing design to help homeowners find the right product choices for their homes. Arry's Roofing Services has extensive experience installing distinctive roofing systems, including Timberline(R) American Harvest(R), Value Collection Lifetime Designer, Timberline(R) Ultra HD(R), and Ultra-Premium Collection Lifetime Designer Shingles. Products and services offered by Premium System Professionals add to the curb appeal desired by discerning property owners.
Started and continuing as a family company, Arry's Roofing Services has served tens of thousands of satisfied customers throughout the Tampa region for more than a quarter-century. The company still fulfills the premise on which it was founded: total dedication to providing the finest roofing services and materials to every customer it serves. As a fully approved applicator for systems from GAF and other major manufacturers, the company is qualified to back those products with industry-leading warranties.
To ensure the integrity of the most complex structural system on your home, Arry's Roofing Services offers practical, affordable roofing solutions. In addition to installations of metal, tile, and asphalt shingle roofing, the company's wide array of services include gutters, insulation, and skylights. The company also works extensively on repairs of damage due to hail, hurricanes, and other storms and severe weather events. During emergency situations, Arry's Roofing Services provides for tree removals, tarp-overs, emergency board-ups, underlayment replacement, temporary repairs, cartage and disposal, and cleanup.
Arry's Roofing Services also services commercial buildings. The company has worked on an extensive list of building types, including office buildings, car dealerships, malls, multi-unit housing, apartment buildings, and condominiums. Arry's Roofing Services works with building owners and property managers to carefully choose the right roofing system and to stay within budget. The company works with any kind of commercial roofing system, including asphalt, metal, slate, built-up, elastomeric (liquid) membranes, modified bitumen, single-ply, and specialty roofs.
A community-minded roofing company, Arry's Roofing Services has a history of getting involved in the communities where its family members live. The company has worked with Habitat for Humanity and participates in the No Roof Left Behind program; it also supports other missions and organizations through donations and by volunteering time. Arry's Roofing Services is a member of the National Roofing Contractors Association, and it is accredited by the Better Business Bureau with an A+ rating.
In 2018, the company has empowered its team members to have more management responsibilities, enabling the business to be more successful without the need for direct day-to-day oversight. "We believe this will bring more success," says Matthew Housh, vice president of sales and marketing. "It enriches the lives of our team members and ultimately will make the company healthier and more profitable." Also in 2018, Arry's Roofing Services became a dealer of Classic Metal Roof Systems. "This has opened the doors for many new opportunities," adds Matthew, "and creates amazing, beautiful roof solutions for our customers." Other new developments in 2018 include development of the CAT III shingle roof system, co-branded by GAF and Arry's Roofing Services, and growth of the service side of the business, with the goal of enabling the company to service customers within one week of notification of a roofing problem.
The company strives for excellence in all endeavors and pledges to everything in its power to ensure that each customer is a satisfied one. As president James "Arry" Housh explains, "We know that you have many choices when selecting a Tampa Bay roofing contractor. We will do all that we can to ensure that your experience is a positive one. The foundations of our company were laid with hard work, determination, and a specific vision–and we replicate that on every project."
About Arry's Roofing Services, Inc.
Family-owned and family-operated, Arry's Roofing Services has provided practical roofing solutions to homeowners, businesses, and home builders throughout the Tampa-St. Petersburg area since 1990. Committed to excellence in roofing, the company prides itself on being the Platinum Roofing Company of the Tampa Bay Area.
Arry's Roofing Services
401 E. Spruce St.
Tarpon Springs, FL 34689
(727) 938-9565
http://www.arrysroofing.com
Facebook: https://www.facebook.com/ArrysRoofingServices
Twitter: https://twitter.com/Arrys_Roofing
LinkedIn: https://www.linkedin.com/company/1878405
YouTube channel: https://www.youtube.com/user/ArrysRoofingService
About GAF:
Founded in 1886, GAF is the leading roofing and waterproofing manufacturer in North America. As a member of the Standard Industries family of companies, GAF is part of the largest roofing and waterproofing business in the world. The company's products include a comprehensive portfolio of roofing and waterproofing solutions for residential and commercial properties as well as for civil engineering applications. The full GAF portfolio of solutions is supported by an extensive national network of factory-certified contractors. GAF continues to be the leader in quality and offers comprehensive warranty protection on its products and systems. The company's success is driven by a commitment to empowering its people to deliver advanced quality and purposeful innovation. For more information about GAF, visit http://www.gaf.com