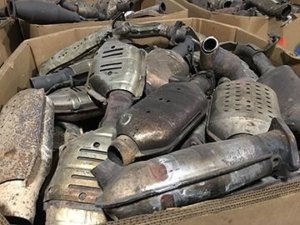 According to the
Platinum Market Review
published on June 18, 2018, platinum prices inched higher earlier last week bouncing off lows of just under $900 an ounce as gold prices were lifted following the US Federal Reserve's announcement of a ¼-point rate increase.
The initial limited move in gold was likely the result of a "buy the news" response as the metal had languished in the days prior and on the realization that another rate hike may not be expected before the late-September or early November FOMC meetings.
But by the end of the week, the dollar had strengthened once again following the decision by the ECB to maintain its lower rate structure, forcing gold under $1,280 an ounce and platinum back below $890 an ounce. Regardless, platinum prices continue to struggle with the same near-$400 discount to gold and $110 discount to palladium.
Any measurable improvement in platinum prices in the short-term seems doubtful as the steady strength of the dollar will continue to limit gains in the precious metals. The Fed's latest decision to increase interest rates and the ECB's contrasting pronouncement to continue its more accommodative monetary stance should extend the dollar's relative strength against the euro.
In addition, market reports such as last week's news that German prosecutors were levying a $1.2 billion fine on Volkswagen AG for its involvement in "dieselgate" and the use of emission cheating software continue to sour investors on platinum. However, solid sales growth in the EU car market, which represents some 20% of total annual platinum consumption, should limit downside price risk in the metal.
About Platinum Market Review
Platinum Market Review is a free weekly publication providing insights and analysis of the market conditions affecting Platinum Group Metals.
It is available only by subscription and is free of charge. Each week a new publication is delivered directly to each subscriber's email inbox.
For More Information visit News.KeyMetalRefining.com
About Key Metal Refining
Key Metal Refining (KMR) buys scrap catalytic converters as the raw material source for its platinum group metal sales generated through its recovery and refining process. KMR's controlling partner is DOWA Metals and Mining Co. America, a wholly owned subsidiary of DOWA Holdings Co, Ltd.
KMR de-cans catalytic converters at its plant in Hainesport New Jersey. The material is further refined and smelted by DOWA in Japan.
Location Info:
Key Metal Refining LLC
5400 Delaware Ave, Hainesport, NJ 08036
(609) 261-1471