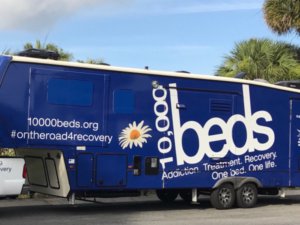 "10,000 Beds is an incredible organization and I am honored to join the Board of Directors." Says Dr. Estes. "It is my hope that together we can help more people get the help they so desperately need."
"As for our first order of business," says Dr. Estes, "The Addictions Academy will be offering two free classes to any treatment center that donates a bed to 10,000 Beds."
The 10,000 Beds team strives to protect an addict's right to treatment, promote ethics in the addiction industry, elevate awareness and change perceptions, and partner with extraordinary treatment programs to provide scholarships to those without resources who are seeking help for addiction.
Founder and CEO of 10,000 Beds, Jean Krisle says, "10,000 Beds seeks board members who are making a difference in the world of addiction treatment and subscribe to the same ethical standards we do. Cali Estes is not only a leader in her field and brilliant lady but a person who understands the importance of putting the client first and providing a continuum of care to support long-term recovery. Board members support the 10,000 Beds' programs for scholarships, outreach, and family support through their influence, experience, and connections. They are also responsible for governance oversight. We are thrilled to welcome Cali to the 10,000 Beds Board of Directors."
Dr. Estes joins an extensive list of recovery leaders including Wesley Geer, Rock To Recovery (Korn) (CA), Kristina Steele, Elevated Billing Solutions (CA/UT), Tami Burgard, Person In Long Term Recovery (CA), Travis Whittaker, Deer Hollow Recovery (UT), John Grab, AddictionActivist (AZ), Kevin Zund, Psynchronous (MA), Patricia Henderson, Addicted Nation Solutions (AZ), James Hadlock, Blunovus (UT), Isaac Rivera, All About Recovery (FL), Kymberly Lind, National Mental Health Community Symposium (CA/TX), Lea Haben Woodford, SmartFem (AZ), Richard Doutre'Jones, ABC4 – Good 4 Utah (UT), and Abhilash Patel, Founder, Recovery Brands (CA.)
Jean and her husband Hal Krisle, sold their home in Utah and have been crisscrossing the country since, meeting with partners and speaking at industry conferences, schools, service clubs, state and county rallies, churches, meet & greets, and community organizations. Their #ontheroad4recovery goal is to help "change the face of recovery."
10,000 BEDS, Inc. is a registered 501c3 nonprofit organization committed to promoting and supporting recovery. The mission of 10,000 Beds is to connect individuals seeking help for addiction to vetted treatment programs.10,000 Beds has a ZERO TOLERANCE POLICY for all unethical practices and behaviors, specifically in the addiction treatment industry. We partner with extraordinary treatment programs throughout the United States to provide treatment scholarships to individuals without resources seeking help for addiction.
CALI ESTES, PHD., is a Certified Masters Level Addiction Professional. She holds a Ph.D from DSU in Psychology and Life Coaching, a Master's Degree from WCU, and an undergraduate from PSU, International Certification as a Drug and Alcohol Therapist, Master Certified Addictions Professional, as well as 24 certifications and over 20 years of experience as a Personal Trainer, Yoga Teacher, Pilates Teacher, Food Addictions Specialist and Life Coach. Her unique approach to get to the root cause of the problem with each client and relate on a humanistic level makes her desirable in this industry. Dr. Estes is more than a 'sober coach'. She has a background in clinical and personality psychology, addictions and forensics and has been featured on NBC, CBS, CNN's Don Lemon, MSN, Dr. Drew Podcast, Washington Post, Fox News, The Los Angeles Times and many more.
To learn more about 10,000 Beds and the work they do, go here: http://10000beds.org
For more on Dr. Cali Estes and The Addictions Academy: https://theaddictionsacademy.com