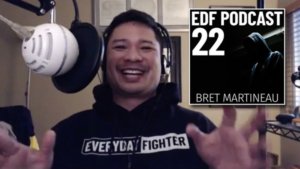 Called "Everyday Fighter", the podcast shares the personal stories of regular people that are fighting battles both inside and outside of the ring.
Each week Philipp Lomboy, a martial arts instructor, interviews a new "everyday fighter". Guests have ranged from veteran martial artists to parents just months into their training to amateur boxer grandmothers.
This week, rather than covering stories about McGregor or Nurmagomedov, Lomboy interviewed Bret Martineau, a business consultant that turned his life around through Muay Thai.
Lomboy shares, "While I've personally been inspired by famous champions in combat sports, I've been inspired just as much by the people I train with every day: mothers, fathers, neighbors – people of all different backgrounds and experience levels.
"We each have our stories of wins and struggles that others can learn from. You don't have to be a celebrity champion to encourage and inspire others with your story."
At launch the first three episodes of the podcast featured a 30-year kung fu master that overcame an abusive childhood, an executive coach that literally fought back against his bully, and a motivational speaker that lost 100 pounds in five months.
In his introductory episode explaining the format of his podcast, Lomboy said whether you've thrown a punch or not, we can all identify with the feeling of fighting: fighting our boss, fighting with our spouse, feeling beaten down.
Rather than focusing on the fighting and training itself, Lomboy's questions focus primarily on capturing his guests' mental and emotional experiences as they make their way through their journey through the fight world.
Lomboy shares, "I don't want to focus on having celebrities and champions on my show, but I won't shy away from it. I recently interviewed a former UFC fighter and he was under the impression that, like other interviewers, I would ask him mostly about specific fights and opponents from his time in the Octagon. I didn't touch those at all and focused primarily on the emotional struggles that came with multiple career changes and having a family. While that stuff isn't necessarily flashy or exciting, it's more interesting and relatable."
A reviewer on iTunes echoed Lomboy's sentiment saying, "His guests aren't A-list names, and it makes it relatable and actionable. I'm really looking forward to more episodes."
In addition to interviews, Everyday Fighter also features solo episodes with Lomboy sharing lessons and anecdotes from his own experiences. He also releases a weekly "best of the week" short-form episode that features highlight clips from the previous week.
As to his aspirations with Everyday Fighter, Lomboy has lofty goals. He says, "One of my big inspirations is Brandon Stanton and what he's built with Humans of New York. He created a following of 18 million people worldwide by sharing authentic stories of regular people. I'd love to do the same for everyday fighters."
Everyday Fighter releases new episodes every Monday, Thursday, and Sunday and is available on iTunes, Stitcher, Google Play, and Spotify.