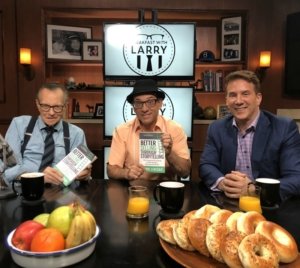 John Livesay
is in high demand these days as a keynote speaker due to his success in the sales arena. His success is not due to higher volume and aggressive approaches, however; instead, Livesay credits his unique approach to client interaction. Rather than pushing products or messages, he prefers to use storytelling to win over his clients. Now, Livesay has condensed his wisdom into a new book set to launch July 2, 2019:
Better Selling Through Storytelling
. The book offers readers a new way to pull clients in with a magnetic, compelling story.
According to Livesay, sales representatives and entrepreneurs can reach bigger and better goals by becoming irresistible to clients through storytelling. "Better Selling Through Storytelling helps people become master storytellers so they can truly love what they do and get off the self-esteem roller coaster of only feeling good if their numbers are up," says Livesay. From learning to handle rejection and overcoming fear to embracing disruption as a tool to handle the unexpected, Livesay offers readers useful, practice tips to change their entire sales strategy and ultimately close more sales.
Known as "The Pitch Whisperer," Livesay has long been noted by experts in many fields as a voice to be heard for those who want to improve client relationships. His keynote addresses include points on utilizing empathy skills, finding unique stories to create connections, winning back lost clients, and using storytelling as a sales tool to become a "Revenue Rockstar."
Livesay's book will be available on July 2, 2019. Pre-orders are currently available at https://www.amazon.com/Better-Selling-Through-Storytelling-Essential-ebook/dp/B07NRTKKZ9.
About John Livesay: John Livesay, aka "The Pitch Whisperer," is a sales keynote speaker and bestselling author. He travels the country sharing lessons from his award-winning sales career at Conde Nast. With over 1,000,000 views for his TEDx talk: Be The Lifeguard of your own life, Livesay is recognized as a leader in sales management and technique. He is the Co-Founder and CMO of QuantmRE, the host of "The Successful Pitch" podcast which is heard in over 60 countries, and has appeared on television, including being interviewed by Larry King, as the expert on "How To Go From Invisible To Irresistible."