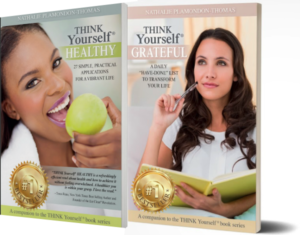 THINK Yourself® GRATEFUL and THINK Yourself® HEALTHY are the latest releases in the THINK Yourself® SERIES, developed by Vancouver-based Nathalie Plamondon-Thomas, which includes THINK Yourself® THIN, THINK Yourself® SUCCESSFUL and the soon-to-be-released THINK Yourself® CLEAN From the Inside Out, THINK Yourself® WEALTHY, THINK Yourself® AN AUTHOR, THINK Yourself® A RELATIONSHIP PRO and THINK Yourself® SOBER.
THINK Yourself® GRATEFUL reached Amazon's best seller list on June 6th, 2018, climbing all the way to #1 in the New Age Meditation, Study Guides, and Neuro-Linguistic Programming categories.
THINK Yourself® HEALTHY reached Amazon's best seller list on June 26th in the Medicine & Psychology and Neuro-Linguistic Programming categories.
The books were also named a Hot New Release on Amazon in several categories.
THINK Yourself® GRATEFUL makes people aware of a powerful force inside them that could help them achieve even their wildest dreams. They learn how to condition this inner power to serve them and keep them on track every day. By cultivating a daily habit of nourishing genuine appreciation for their life, they can tap into the astonishing potential that they already have inside themselves.
This book, designed as a workbook/journal can be used on its own or along with the author's No. 1 best-selling THINK Yourself® series. It is a tool to cultivate powerful daily habits. By asking their minds to answer specific, thought-provoking questions every night, readers will program themselves to anticipate daily moments of positive change and opportunity.
Plamondon-Thomas says: "Get your pen ready and watch your life transform! This is a simple habit that will turn your intentions into achievements. It's a practical Guide for creating your future. A daily "have-done" list to transform your life and realize your dreams."
The book THINK Yourself® HEALTHY offers 27 simple, practical applications for a vibrant life. When we eat a single cookie, we sometimes feel like we should eat the whole box as our day is ruined anyway. Sometimes, our brains make up stories for us and we end up doing things that we don't want to do. Plamondon-Thomas teaches her readers how to trick yourself into showing up to a workout, what to order in a restaurant, what to eat before a workout, how to prepare to eat optimally all week, and answers many more questions through tips and specific meal plans, exercise plans and examples from her own life.
Plamondon-Thomas states, "I created the THINK Yourself® book series as a way to make available the proven system I have developed for my coaching clients to live their full potential."
ABOUT THE AUTHOR
Nathalie Plamondon-Thomas is an Expert with a Proven System to reprogram your brain and get you transformational results.
Founder of the THINK Yourself® ACADEMY, Speaker, Master Life Coach and No.1 best-selling author of 10 books on wellness and empowerment, Nathalie combines 10 years of experience in human resources, 25 years in sales and 30 years in the fitness industry. In 2007, she was "Fitness Instructor of the Year" for Canada. She uses neuroscience in her practice as a Life Coach and Master Practitioner in NLP to reprogram your brain to end self-sabotage and live your full potential. "You can take a horse to water, but you can't make him drink". Somehow, Nathalie can.
Plamondon-Thomas can be reached at www.dnalifecoaching.com.
THINK Yourself® GRATEFUL is available on Amazon at https://www.amazon.com/dp/B07D93LC4F.
THINK Yourself® HEALTHY is available on Amazon at https://www.amazon.com/dp/B07DVVGHKV.
All books in the series can also be purchased at www.thinkyourself.com.