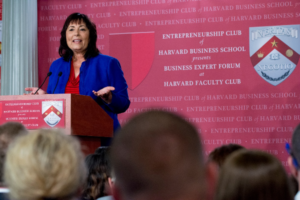 Daily Success Network creator and executive producer Tamara "Tami" Patzer spoke at the Entrepreneurship Student Club of the Harvard Business School's Expert Business Forum at Harvard Faculty Club recently.
Patzer shared her journey to become the best-selling author-publisher of the "Women Innovators: Leaders, Makers, and Givers" book series and award-winning Women Innovators Radio show. Patzer was honored with the Author Marketer award for her contribution to helping authors go beyond the best seller with innovative marketing that creates reach, authority, celebrity, credibility, and expert status.
"It was an honor to share my vision with more than 160 entrepreneurs, medical professionals, financial experts and authors at Harvard Faculty Club," said Patzer. "To earn the 'Author Marketer' award for helping authors take their lives and careers to the next level was amazing."
Patzer hosts the Women Innovators Radio show and has helped more than 64 women become international best-selling authors since January. She is the producer of several other programs including The Thought Leaders show, Spiritual Destinations and is a popular host on Business Innovators Radio at Business Innovators Radio Network.
While in Boston, Patzer was interviewed by Heather Poduska on the Thrive! TV show about authoring and publishing books as a business tool and discussed the popular Women Innovators program.
"Women Innovators is a series of books featuring women from around the globe who exemplify courage and persistence, Its mission is to bring their big messages and big missions into the light," said Patzer, who said there are more volumes of Women Innovators in production and she is seeking women who are leaders, makers and givers: "Women who make a daily difference."
Patzer is currently touring the United States appearing on local TV programs discussing Women Innovators and the Beyond the Best Seller program. To get more information about Patzer's program, send an email to her at TamaraPatzer at Gmail dot com.