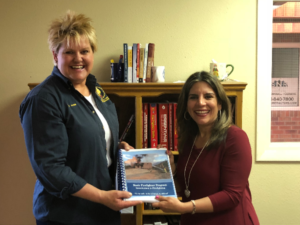 First Idea, Inc. and The Colorado State Fire Chiefs (CSFC) Volunteer Section have partnered together to provide "The 36-hour Introduction to Firefighting Task Book" to volunteer fire departments in Colorado.
Serving more than 450,000 Colorado residents, the CSFC Volunteer Section represents more than 198 all-volunteer fire departments and is chaired by Fire Chief Brita Horn of Rock Creek Volunteer Fire Department (VFD) with Vice Chair Assistant Fire Chief Brad White of Grand Fire Protection District #1 in Granby, Colorado.
The Firefighting Task book was created to help new volunteer firefighters have a better understanding of the mental and physical demands of firefighting and the cross-training involved in the job as a firefighter. Many medical groups, wildfire groups, and fire boards have trained via the 36-hour program that includes classroom modules, hands-on training with job performance records (JPR's), instructor resources, a final exam, rosters, attendance sheets, and a certificate of completion.