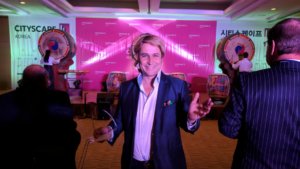 David Drake, through his family office LDJ Capital, has acted as GP and LP investor with his partners in fund-of-funds, realty funds, venture capital funds, and hedge funds. Drake's investments currently have 50+ global directors that maintain relations with institutions and family offices with access to over a trillion in assets.
Drake, through LDJ Capital, manages and co-invests in alternative assets with the top 30 family offices out of his 5,000 family office and institutional investor reach. These top 30 are 40% from Asia, 20% from Europe, 20% from the Americas, and 20% from the Middle East.
Drake's access with 100,000 investors is maintained through his media asset, The Soho Loft Media Group, which has produced & sponsored over 1500+ finance conferences since 2002 like the events with institutional media leader Thomson Reuters and with sponsors from NASDAQ, NYSE, KKR, and the Carlyle Group.
LDJ Special Situations partners have invested $100 Million in Alibaba and Palantir.
LDJ Real Estate strategy is set to acquire Class A core rental properties and hotels.
Drake is a digital automation advocate for private equity as he lobbied the US Congress on the JOBS Act since 2011. He represented the US Commerce Department at the EU Commission in Brussels and Rome in 2012, was invited to the White House Champions of Change ceremony in Washington, D.C., and, was a speaker at the UK Parliament in 2013.
More recently, David Drake is also seen as a leader in blockchain and cryptocurrency. He saw the value of digital assets when everyone was avoiding it. It all started in 2011 when Drake collaborated on the JOBS Act to create new laws underlying all fundraising in the U.S. for all ICOs. He runs a $200M LDJ Cayman Fund focused on cryptocurrency, mining, and ICO acquisitions. LDJ Capital Credit also offers middle market bridge financing to seed upcoming ICO's. Previously, he held a majority stake as a Managing Partner with Robert Hambrecht in an Alternative Energy Fund NewCommons Capital 2009-2010.
Over a dozen leaders and industry insiders in cryptocurrency gathered in New York on Monday, March 26, 2018, for the Inaugural Crypto Business Forum New York. Roundtable discussions uncovered what lies ahead for the future of blockchain. The forum designed to collaborate and learn from visionaries and insiders, meet investors and to share best practices and governance.
The rise of 'the ICO' in 2017 has been astonishing to watch. ICOs have followed the innovator's dilemma disruption path in much faster timeframes than technology has. The VC and Angel investor market, which maintains a chokehold on development projects, has now been uprooted by a decentralized, democratic model of global crowdfunding, that in some cases, is producing returns in the 1,000% range.
With the diversity of each leader's background, including Key Sponsors Uulala, a blockchain company to empower the unbanked, and U.S. Olympic Medalist Apolo Ohno's organization HybridBlock , the group will collectively merge their knowledge. Industries in attendance include social impact, marketing and media, finance, data security, blockchain development, agriculture, cryptocurrency trading, personal development, fitness, cannabis, and sports financing. Each has navigated the ever-changing business landscape in the lightning speed crypto market and looks to further the impact blockchain technology can have on their respective industries.
Ohno, a founder of the new cryptocurrency exchange HybridBlock, will take an active role in examining the ecosystem for global exchange. Another notable Key Sponsor Oscar Garcia of the financial technology company Uulala has a focused social impact outlook to share what it looks like to bring millions of unbanked users into the formal economy. Joshua Ashley Klayman Kuzar is providing key insights into the global legal landscape around cryptocurrencies.
Not only did the event bring introspective from emerging platforms, but it also focuses on disruption to legacy industries.
Hanes added, "we are super excited to host the second Crypto Business Forum New York and having David Drake as Keynote speaker and sponsor for such an experience at the Harvard Club in New York. We are currently on a worldwide search for other TOP CEO's launching ICO's and Innovators in Cryptocurrency and Blockchain Technology to be a part of this exclusive experience. These business leaders are truly innovating business as we know it"
What others are saying about the inaugural event.
Mathew Loughran co-founder added, "we wanted to not only have an exclusive event for media assets but to help CEO's to interact with investors. We know Institutional Money is coming, and we wanted to bridge the gap to meet the gateway to institutional funds. And have the ability to expand their network with access to Family Offices and Crypto Funds investing in the space. The Inaugural Crypto Business Forum was a wild success and we are looking to repeat".
The market continues to expand and competition to attract investor dollars increases…how are you going to stand out? Need funding? This is the event to be at in 2018.
David Drake added, "The center of security tokens is in Wall Street and with our 20 years as a family office on Wall Street I expect the financial markets and embracing Cryptocurrency and tokenization over the next decade. It starts here in New York City and this is the event held at Harvard Club to propel your Innovation just like I discuss on my weekly digital Innovation show at NASDAQ. come and join us at NASDAQ for this event and reach the financial markets."
To be considered for one of the exclusive spots go here. www.cryptobusinessforum.com and download the schedule of deliverables. Spots are limited to 10 and filling fast. Secure your spot now for the exclusive Investor, Media, Blockchain Cryptocurrency Educational event of 2018.